Solar improving design/tech
No, it's not a joke or a crazy awesome futuristic concept . It's real.
Harry Atwater Pursues Higher Solar Power Efficiency by Combining Optical Techniques With Conventional Solar Cells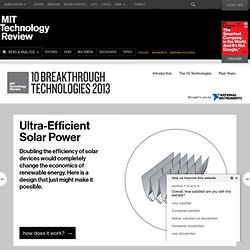 Harry Atwater thinks his lab can make an affordable device that produces more than twice the solar power generated by today's panels. The feat is possible, says the Caltech professor of materials science and applied physics, because of recent advances in the ability to manipulate light at a very small scale. Solar panels on the market today consist of cells made from a single semiconducting material, usually silicon.
A/C Solar Generator
Intensive research around the world has focused on improving the performance of solar photovoltaic cells and bringing down their cost.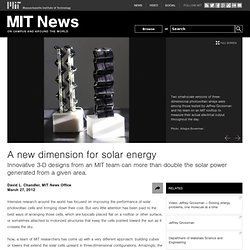 A new dimension for solar energy
New super-cheap, ultra-thin solar cells could threaten fossil fuel dominance
The next generation of solar panels will bear little resemblance to their predecessors, at least on the outside.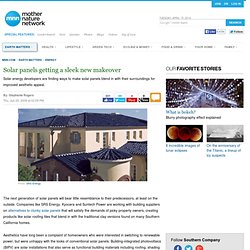 When it comes to turning sunlight into electricity, today's technology leaves lots of room for improvement.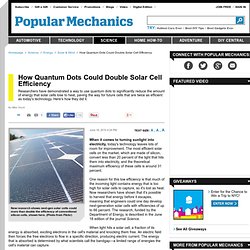 Quantum Dots +efficiency
As the U.S. government continues to heap billions in subsidies to the world's wealthiest coal and oil companies, the solar industry has been struggling to make it in the United States.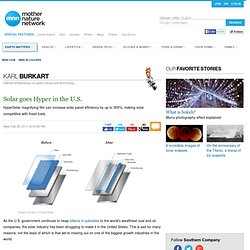 Artificial Solar Leaves: Tack 'em to Your House!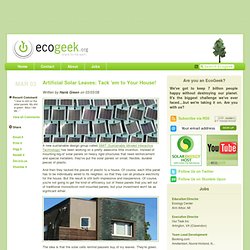 Written by Hank Green on 03/03/08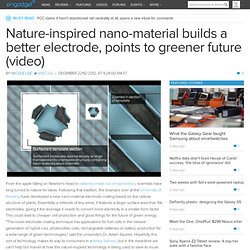 nano-material builds a better electrode,
From the apple falling on Newton's head to batteries made out of root extract, scientists have long turned to nature for ideas. Following that tradition, the brainiacs over at the University of Reading have developed a new nano-material electrode coating based on the cellular structure of plants. Essentially a network of tiny wires, it features a larger surface area than flat electrodes, giving it the leverage it needs to convert more electricity in a smaller form factor.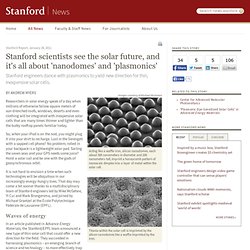 Images courtesy of Michael McGehee
'nanodomes' and 'plasmonics'
better light absorbing
© Natcore Technology Scientists over at Natcore Tech have created what is now the "blackest" solar cell to date.
Black Solar Cell Absorbs 99.7% of All Light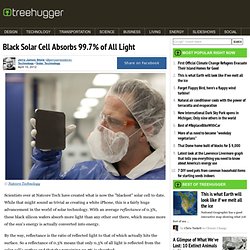 absorbs infrared
While we've seen solar cell efficiency squeak past 40% in labs this year, we're still stuck commercially with panels that at most convert about 20% of what hits them into energy.