New Tech
Perceptive Pixel | Jeff Han and Phil Davidson Video. Perceptive Pixel is a startup founded by Jeff Han.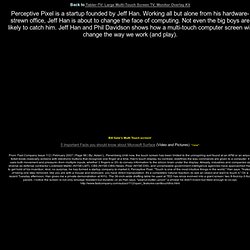 Working all but alone from his hardware-strewn office, Jeff Han is about to change the face of computing. Not even the big boys are likely to catch him. List of emerging technologies. Agriculture[edit] Biomedical[edit] Displays[edit] Electronics[edit]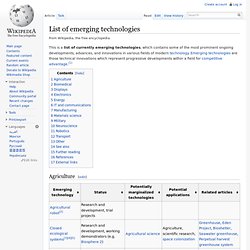 How buildings could come to life. The buildings in our cities could quite literally come alive in the decades ahead.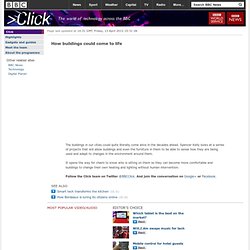 Spencer Kelly looks at a series of projects that will allow buildings and even the furniture in them to be able to sense how they are being used and adapt to changes in the environment around them. It opens the way for chairs to know who is sitting on them so they can become more comfortable and buildings to change their own heating and lighting without human intervention.
Ridiculous Image Technology Coming Video. 8 Ways Magnetic Levitation Could Shape the Future - How Maglev Technology Works. For years, NASA has been researching the possibility of using the high speeds of maglev transportation to fling spacecraft into low Earth orbit.
"It would really open up space to human exploration and commercialization," Powell says. "It's something we can't do now because it's too expensive. " Powell and his colleagues have proposed two generations of space launching technology. The first is a cargo-only launch track that could be built into a mountainside to reach a height of 20,000 feet. Magnets could allow a spacecraft traveling along the track to reach speeds around 18,000 miles per hour—enough to fly into space. Is This The Future of Touchscreen Tech? Day of Glass 2 Video Will Blow Your Mind. Gorilla Glass manufacturer Corning has unveiled a follow-up YouTube video to its wildly successful "A Day Made of Glass," providing another look into what the future could be like with the growth of glass touchscreen interfaces, from innovative chalkboards and activity tables in classrooms to uses for it in hospitals.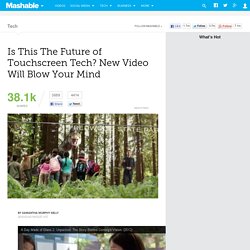 Corning released two versions of "A Day Made of Glass 2″ — one with a narrator and another, abbreviated version without commentary — the video follows the life of young Amy and her family as they go through their day using various products made of glass. Amy does classwork on a glass tablet, controls the temperature of the car from the backseat and even attends a field trip at the Redwood Forrest with an interactive signage that brings learning to life. Her teacher also works with students on interactive touchscreen activity tables. Corning expects these activity tables to be rolled out in the near future. Bento Laptop Tablet Hybrid by René Woo-Ram Lee. Bento Box Kinda Like Voltron Bento is quite an exceptional and forward thinking concept by René Woo-Ram Lee.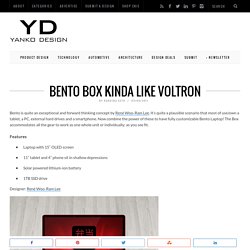 It's quite a plausible scenario that most of use/own a tablet, a PC, external hard drives and a smartphone. NEXT WORLD - Intel Claytronics (Programmable Matter) Holophonic Sound - 2Loop.com.
---