Tui Na
Acupuncture Points Database - Locations, Functions and Clinical Usage. For each meridian graphic you may hold your mouse over an acupuncture point and a popup with the location and precautions, if any, will come up.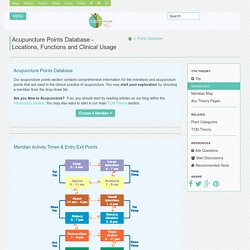 On the graphic, as well as within any chart, you may click on an acupuncture point which will take you to the full description of that point. This includes the english name, chinese name, point associations, location, precautions and commonly agreed upon functions. Within all of the acupuncture point detail pages you can click on any of the headers such as "Point Associations" or "Actions and Effects" and you will be taken to helpful charts that discuss all of the points on that particular meridian. 547928_315076591903694_250949118316442_709239_1104050918_n.jpg (JPEG Image, 600 × 574 pixels)
Chinese Acupuncture Meridian Pathways and Point Locations. Chinese Acupuncture Point Locations Point Locations for the twelve main acupuncture meridians and the extraordinary meridians: conception vessel & governing vessel.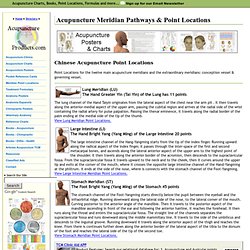 Lung Meridian (LU) The Hand Greater Yin (Tai Yin) of the Lung has 11 points The lung channel of the Hand Taiyin originates from the lateral aspect of the chest near the arm pit . The C hinese Medicine Sampler - Table of Contents in Full. Acupuncture Meridians Pathways of Chi Energy. Acupuncture meridians are called many names.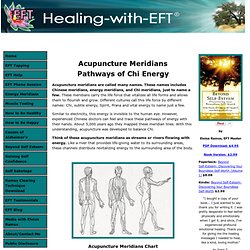 These names includes Chinese meridians, energy meridians, and Chi meridians, just to name a few. These meridians carry the life force that vitalizes all life forms and allows them to flourish and grow. The Meridians (or Channels ) in Chinese Medicine Theory. In traditional Chinese medicine theory, the meridians - or channels carry and distribute qi and blood to all parts of the body, connect the organs, limbs and joints.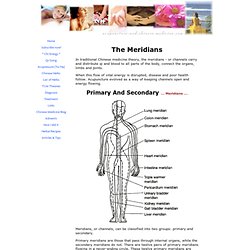 When this flow of vital energy is disrupted, disease and poor health follow. Acupuncture evolved as a way of keeping channels open and energy flowing. Meridians, or channels, can be classified into two groups: primary and secondary. Google Image Result for.
---