Alcohol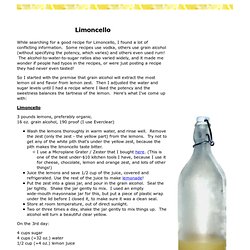 Limoncello While searching for a good recipe for Limoncello, I found a lot of conflicting information. Some recipes use vodka, others use grain alcohol (without specifying the potency, which varies) and others even used rum! The alcohol-to-water-to-sugar ratios also varied widely, and it made me wonder if people had typos in the recipes, or were just posting a recipe they had never even tasted! So I started with the premise that grain alcohol will extract the most lemon oil and flavor from lemon zest.
Limoncello Recipe
The Drinks Every Man Should Know
SMN_NEW_DandelionWineMAY10.gif from showmenow.com - StumbleUpon
­The only fool-proof way to avoid a hangover, of course, is not to drink alcohol. But from a scientific perspective, researchers have found the following general regimen minimizes the symptoms of a hangover. Before Drinking Eat a full meal - A full stomach slows down the absorption of alcohol, giving the body more time to process the toxins. Fatty foods and carbohydrates increase this effect.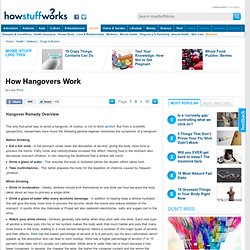 How Hangovers Work& - StumbleUpon
Welcome to YouTube!
Chaîne de YouDeserveADrink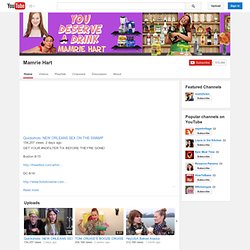 10 Jello Shots Worth the Hangover
Alcoholic Soaked Gummy Bears | Recipe | Cut Out + Keep - StumbleUpon
Face it, on their 21st birthday, most people celebrate by going out and having a few drinks. Shots, inevitably, will be part of that. While the trend of drinking 21 shots is dangerous and not recommended, having one or two commemorative shooters can be fun. However, the urge to stick newly of-age friends with a disgusting or bad shot is common, and can lead to some good stories, but many bad memories.
21st Birthday Shots That Taste Good: Recipes to Celebrate the Big Two-One Without Making You Sick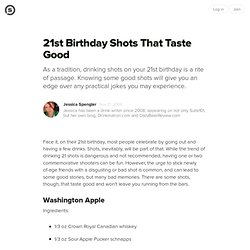 Nutella Shot Recipe
So I have a new hire who is about to bartend her first bartending shift and I was about to e-mail her 30 drinks every bartender should know and looking for a list (so I wouldn't have to make it) and almost every list I found was absolutely ridiculous.
30 Drinks Every Bartender Should Know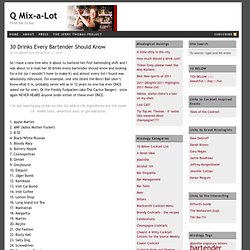 MadMenspread-1._V198723042_.jpg from images-amazon.com - StumbleUpon
7UP Mixers
Skittles Vodka (with instructions)
Jolly Rancher Vodka Tutorial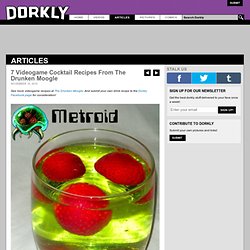 See more videogame recipes at The Drunken Moogle.
7 Videogame Cocktail Recipes From The Drunken Moogle
There's something you might not know about me. I'm a huge fan of the Harry Potter books and movies. I wasn't always, but once I watched one movie, I was hooked. I was devastated when I found out Eric and I were moving away from Orlando before Wizarding World of Harry Potter opened at Universal's Islands of Adventure.
Frozen Butterbeer for the Deathly Hallows Premiere – Cook Like a Champion