Tips
27 Ways To Make Your Groceries Last As Long As Possible. Common-cooks-howmany-guide-to-kitchen-conversions_50682c4599d7e.jpg (JPEG Image, 600 × 1280 pixels) Cooking Tips and Cooking Questions Answered. Every cook, being human, errs, bungles, botches, and screws up in the kitchen once in a while.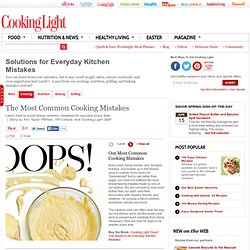 If you have not "caramelized" fruit in salt rather than sugar, you have not suffered the most embarrassing mistake made by one of our editors. We did not have to look much farther than our staff―and their encounters with readers, friends, and relatives―to compile a list of common, avoidable culinary boo-boos. The creative cook can often cook her way out of a kitchen error, but the smart cook aims to prevent such creativity from being necessary.
Here are over 50 ways to be smarter every time. Buy the Book: Cooking Light Oops! Common Ingredient Substitutions | The Healthified Mom - Aurora. The 6 Enemies of Food Storage | Wake Up World - Aurora. 3rd February 2012 By Gaye Levy Guest writer for Wake Up World I recently decided that I should up the ante when it comes to the items in my food storage, and holy moly have you seen the price of beans lately?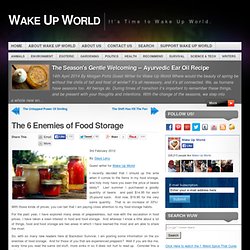 Last summer I purchased a goodly quantity of beans and paid $14.95 for each 25-pound sack. And now, $19.95 for the very same quantity. The Medicine Cabinet in Your Kitchen – Ten Top Common Healing Herbs and Spices | Wake Up World - Aurora. 1.
CAYENNE - Cayenne pepper has wonderful cardiovascular benefits, including lowering blood pressure. Famed herbalist Doctor John Christopher noted that a couple of teaspoons of cayenne pepper never failed to stop a heart attack in only minutes. When added to food, cayenne increases appetite, improves digestion and relieves gas, nausea and indigestion. Susan's 100 cooking secrets. 1.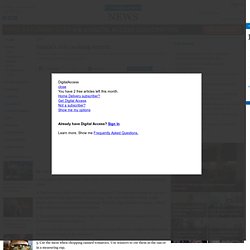 Peel ginger with a teaspoon. Just scrape with the concave part of the spoon facing the ginger. 2. The Cook's Thesaurus. 12 Tasty Substitutions When Cutting Carbs. "The best way to cut carbs from your diet is to make creative substitutions," says Arthur Agatston, M.D., author of The South Beach Diet.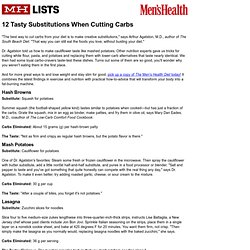 "That way you can still eat the foods you love, without busting your diet. " Dr. Agatston told us how to make cauliflower taste like mashed potatoes. Table of CondimentsThat Periodically Go Bad. 16 Tips For The Perfect Burger. Undoubtedly one of the most frequently cooked items of the summer grilling season, burgers are certainly an all-American food.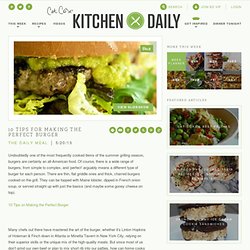 Of course, there is a wide range of burgers, from simple to complex, and 'perfect' arguably means a different type of burger for each person. There are thin, flat griddle ones and thick, charred burgers cooked on the grill. Ingredient Substitutions. Ingredient Substitutions by P.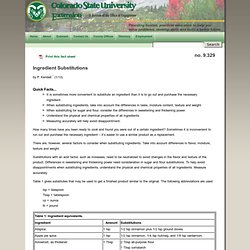 Kendall * (1/13) Quick Facts... It is sometimes more convenient to substitute an ingredient than it is to go out and purchase the necessary ingredient. When substituting ingredients, take into account the differences in taste, moisture content, texture and weight. Seven Surprising Uses for Baking Soda. Let us be clear: Baking soda is not going to permanently cure your acne or turn back the cruel hand of time.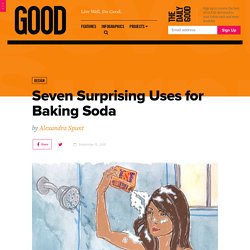 But if you're looking to detoxify your body and your household, this multitasking ingredient will make your life easier (and more beautiful) without denting your coffers. Mom may have taught you that baking soda will make your bread rise and your fridge smell better, but did you know of its many cosmetic applications? The Perfect Pantry.
---