Menu
Baked Maple Cinnamon Donut holes | Mama B - Aurora. Punchfork | The best new recipes from top food sites - Aurora. Soup for Supper: 25 Nourishing, Delicious Soups | Apartment Therapy The Kitchn - Aurora. Slow Cooker Apple Butter - Aurora. My poor Crock-Pot.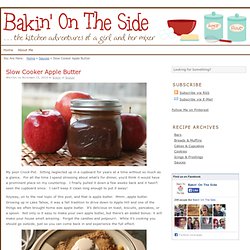 Sitting neglected up in a cupboard for years at a time without so much as a glance. For all the time I spend stressing about what's for dinner, you'd think it would have a prominent place on my countertop. I finally pulled it down a few weeks back and it hasn't seen the cupboard since. I can't keep it clean long enough to put it away! Anyway, on to the real topic of this post, and that is apple butter. Easy Bacon & Egg Breakfast Bites | Mama B - Aurora.
Pizza
Drinks. Meals. Salads & Soups. Dessert. Appetizers. Dips, Spreads & Pickels.
---