Technology
OSX in Virtual Box (Hackintoshed VM) How to create a Hackintoshed Virtualbox What you'll need.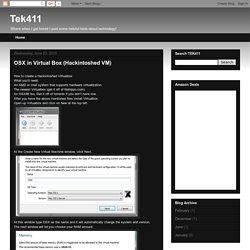 An AMD or Intel system that supports hardware virtualization. The newest Virtualbox (get it off of filehippo.com). An OSX86 iso, Get it off of torrents if you don't have one. From Windows 1 to Windows 7, and everything in between, in just 10 minutes (video) If you've ever wanted to see, in 10 short minutes, the evolution of simple, glorious MS-DOS Shell and Windows 1, to the lofty, shiny, 3D peaks of Windows 7, with every version (except Windows Me) in between, now's your chance.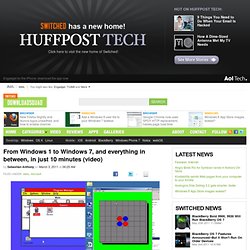 With the title 'Chain of Fools,' the video (embedded after the break) chronicles one man's attempt to upgrade Windows from one version to the next, from Windows 1 to Windows 7. The idea is to see how well Windows deals with the upgrade process -- whether settings and UI preferences are preserved -- and to see how well later versions of Windows deal with very old games (Doom 2 and The Secret of Monkey Island). The complete upgrade process, if you're interested, is as follows: MS-DOS 5 > Windows 1 > Windows 2 > Windows 3 > Windows 3.1 > Windows 95 > Windows 98 > Windows 98 SE > Windows 2000 (NT!!)
Ubuntu. Tuesday, February 21st, 2012 The desktop is the killer app for quad-core smartphones in 2012.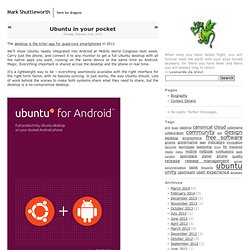 We'll show Ubuntu neatly integrated into Android at Mobile World Congress next week. Carry just the phone, and connect it to any monitor to get a full Ubuntu desktop with all the native apps you want, running on the same device at the same time as Android. Magic.
---