Mods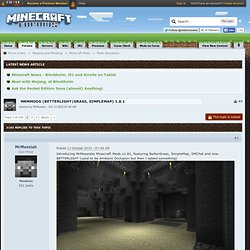 Introducing MrMessiahs Minecraft Mods v1.81, featuring BetterGrass, SimpleMap, SMChat and now BETTERLIGHT (used to be Ambient Occlusion but then I added something) LATEST VERSION - v1.81 - http://www.mediafire...djlldcrejqfaw18 Current status / FAQ Anyone getting a patcher error patching bm.class / bi.class You have an outdated patcher Wierd triangles with Optimine Patched in wrong order: Optimine, then my mods, always.
MrMMods v1.7 (BetterLight/Grass,etc) Beta 1.1_x FIX - Minecraft Forums
[Mod] Enable monster killing in multiplayer (pvp,exp,skills) (Page 1) - Plugins - Hey0's Minecraft Mods
MineSave Alpha v0.3 Download: Mirror 1 Runtimes: (If it's saying you're missing files be sure to download these run times.) - http://support.microsoft.com/kb/192461 - Runtime DLL's (ASycFilt.dll ComCat.dll MSVBVM60.dll OLEAut32.dll OLEPro32.dll STDOLE2.tlb) - http://www.microsoft... ... laylang=en - Common Controls (comctl32.ocx + mscomctl.ocx)
[Auto-Backup] MineSave v0.3 Alpha - Minecraft Forums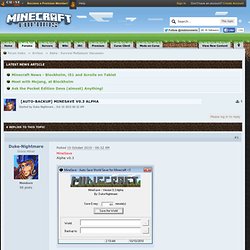 INVedit - Minecraft Forums
Runecraft 2.02 -- Magic Mod for SMP - Official Minecraft Forums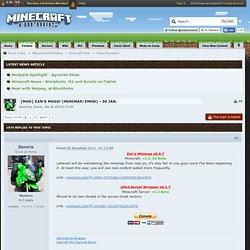 Hmm. . . . . A while ago before the Holloween update Zaneris had PM'ed me with some questions about his mod. I guess he thought I was the best person to ask becuase of OSMS.
[Mod] Zan's Mods! (Minimap/Shape Builder) - 1.1_02! - Minecraft Forums
The Mod Compendium – Updated! « CraftHub
This is a hMod (121+) Plugin that fixes buckets so they set flowing water / lava when used. It's not the most advanced plugin but until buckets are fixed by Notch this will make things work better. Installation:
[Hey0 Plugin] BucketFix (v0.2)Buckets set flowing water/lava - Minecraft Forums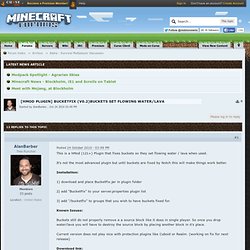 [Auto-Backup] MineSave v0.3 Alpha - Minecraft Forums
‡ Beta Mods ‡ • Water Shader by Kingbdogz, Kodaichi, Shockah, Flan, and 303 - Realistic looking water with reflections and ripples [Download Mod] • OptiFine by sp614x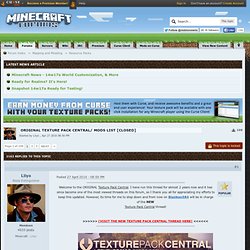 4.5.1 -Made elephants grow slower -Adjusted fall damage for elephants -Elephants now retaliate when attacked -reduced frequency of Elephant spawns in deserts -renamed croc hide /armors as reptile hide / armors -A player riding a Komodo dragon can now use tools -turtles are again afraid of bigger entities -komodo dragons no longer fight other komodo dragons -removed 'custom spawner deactivated' message from console -fixed light green horse texture error. -Added seven new Fairy horses -snakes are healed with raw rat -changed bunny textures and added a new spotted bunny
[MOD] Mo' Creatures - Version 1.6.6 with Horses - Pegasus - Minecraft Forums