Napa road trip June 19, 2010
Tyler Florence Shutters Rotisserie & Wine in Napa. Rotisserie & WinePhoto: Grub Street When it opened in 2010, Rotisserie & Wine was seen as the first of many locations of a potentially national brand by budding restaurateur Tyler Florence.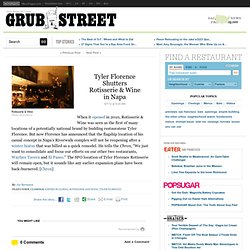 But now Florence has announced that the flagship location of his casual concept in Napa's Riverwalk complex will not be reopening after a winter hiatus that was billed as a quick remodel. Piatti Ristorante & Bar, Mill Valley. This Cal-Italian restaurant, one of six locations in Northern California, has been a fixture beside Marin's Richardson Bay for nearly 15 years, but a major remodeling in 2008 opened up an enlarged bar area and the waterside view.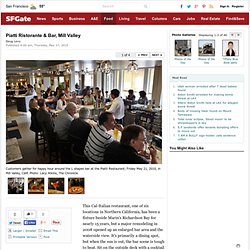 It's primarily a dining spot, but when the sun is out, the bar scene is tough to beat. Sit on the outside deck with a cocktail and watch the birds on one side and the flirts on the other. The vibe: White marble and dark wood trim with huge windows provide an airy feel, with wide views of the water and the Mill Valley hillsides nearby. The U-shaped bar takes up the center of the building. Ristorante & Bar. Kudos from a Previous Guest: "Please know how thrilled we (and ALL the guests!)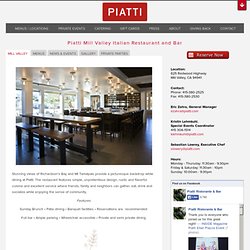 Were with our fantastic evening and experience at piatti's!!! Wow - where to start? Lovely venue (tide was up and sun was out and mountain was gleaming), food - wow! Raves from all!!! And your staff - couldn't have been any better!!! Welcome to Pine Ridge Vineyards - Napa Valley. Gott's Roadside, Saint Helena. CORISON WINERY - Napa Valley Cabernet Sauvignon - Home Page.
Domaine Chandon. Universities, Schools and Other Institutions « New York Times Kn. My First Experience with Body Scanners Gets Me in Trouble with t. You can see a woman being scanned.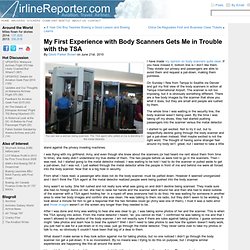 The TSA agent who yelled at me is standing in the metal detector. I have made my opinion on body scanners quite clear.
---