Napa road trip June 19, 2010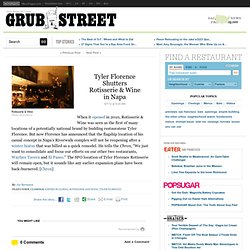 Tyler Florence Shutters Rotisserie & Wine in Napa
Rotisserie & Wine Photo: Grub Street When it opened in 2010, Rotisserie & Wine was seen as the first of many locations of a potentially national brand by budding restaurateur Tyler Florence. But now Florence has announced that the flagship location of his casual concept in Napa's Riverwalk complex will not be reopening after a winter hiatus that was billed as a quick remodel.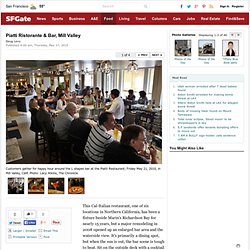 Piatti Ristorante & Bar, Mill Valley
This Cal-Italian restaurant, one of six locations in Northern California, has been a fixture beside Marin's Richardson Bay for nearly 15 years, but a major remodeling in 2008 opened up an enlarged bar area and the waterside view. It's primarily a dining spot, but when the sun is out, the bar scene is tough to beat. Sit on the outside deck with a cocktail and watch the birds on one side and the flirts on the other. White marble and dark wood trim with huge windows provide an airy feel, with wide views of the water and the Mill Valley hillsides nearby. The U-shaped bar takes up the center of the building.
Ristorante & Bar
Welcome to Pine Ridge Vineyards - Napa Valley
Gott's Roadside
Gott's Roadside, Saint Helena
CORISON WINERY - Napa Valley Cabernet Sauvignon - Home Page
Corison 2000 Cabernet
Domaine Chandon
Info about Domaine Chandon in Yountville by sfdoug Jun 20
Universities, Schools and Other Institutions « New York Times Kn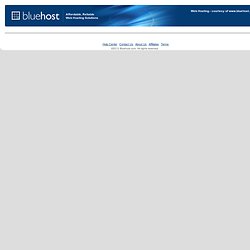 Benefit from the academic and professional expertise of these educational institutions, including colleges, universities and other programs that are currently offering online continuing education courses through their collaboration with The New York Times Knowledge Network. Dedicated faculty offer individual courses and certificate programs that are carefully designed, effective and engaging, and enhanced by the rich resources and journalists of The Times. Learn from colleges, universities and professional programs –– from the comfort of your home. Click on the school name to see a list of their courses.
Pine Ridge Vineyards, Napa Valley - Current Release Wines
My First Experience with Body Scanners Gets Me in Trouble with t
By David Parker Brown , on June 21st, 2010 at 6:45 am You can see a woman being scanned. The TSA agent who yelled at me is standing in the metal detector.