360 panorama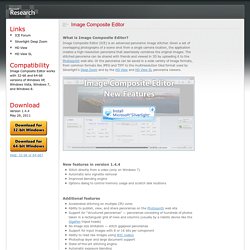 What is Image Composite Editor? New features in version 1.4.4 Stitch directly from a video (only on Windows 7) Automatic lens vignette removal Improved blending engine Options dialog to control memory usage and scratch disk locations Additional features Support Microsoft Image Composite Editor is provided free of charge and without official support.
Goal: an easy to use cross-platform panoramic imaging toolchain based on Panorama Tools. With Hugin you can assemble a mosaic of photographs into a complete immersive panorama, stitch any series of overlapping pictures and much more. Status Hugin has now reached a stable state: the software is recommended for general use.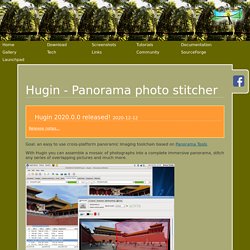 Virtual Tours/Panoramaphotography
You want to show your premisses on the web? Do don't know how and don't have the equipment? We create a beautiful virtual tour for you including all photography. In addition we produce images, videos, text or animation and incorporate it into your tour. We offer unique services that other companies can't provide: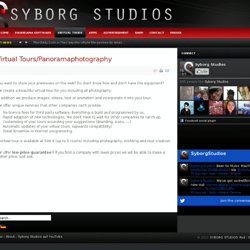 Panorama Photographer Home Page | virtual reality photographs and virtual tours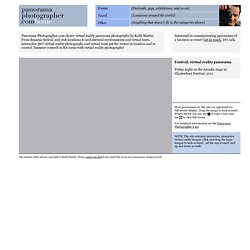 Panorama Photographer.com shows virtual reality panorama photography by Keith Martin. From dynamic festival and club locations to architectural environments and virtual tours, interactive 360° virtual reality photographs and virtual tours put the viewer in location and in control. Immerse yourself in the scene with virtual reality photography! Interested in commissioning panoramas of a location or event? Get in touch, let's talk. All contents of this site are copyright © Keith Martin.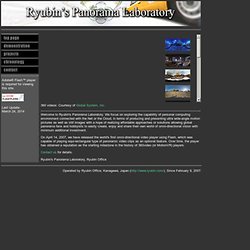 panorama.com
360 videos: Courtesy of Global System, Inc. Welcome to Ryubin's Panorama Laboratory. We focus on exploring the capability of personal computing environment connected with the Net or the Cloud, in terms of producing and presenting ultra wide-angle motion pictures as well as still images with a hope of realizing affordable approaches or solutions allowing global panorama fans and hobbyists to easily create, enjoy and share their own world of omni-directional vision with minimum additional investment.