Interior materials
Watotodesign — Products
30 October 2012Last updated at 07:57 ET By Paul Rincon Science editor, BBC News website Bacterial spores are added to the concrete mix; they are activated by water Experimental concrete that patches up cracks by itself is to undergo outdoor testing. The concrete contains limestone-producing bacteria, which are activated by corrosive rainwater working its way into the structure. The new material could potentially increase the service life of the concrete - with considerable cost savings as a result.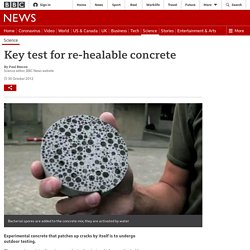 Key test for re-healable concrete
Architecture Portfolios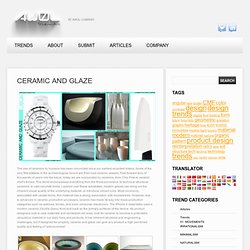 The use of ceramics by humans has been chronicled since our earliest recorded history. Some of the very first artifacts in the archaeological record are fired mud ceramic vessels. Fast forward tens of thousands of years into the future: today we are surrounded by ceramics, from Chia Pets to ceramic chef's knives. This trend encompasses everything from the finest porcelains, to technical structural ceramics, to cast concrete forms. Layered over these substrates, modern glazes can bring out the inherent visual quality of the underlying material, or introduce vibrant color.
CERAMIC AND GLAZE - AWOL trends
- StumbleUpon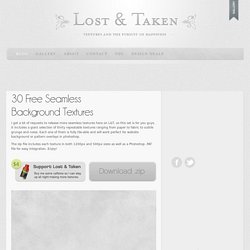 I get a lot of requests to release more seamless textures here on L&T, so this set is for you guys. It includes a giant selection of thirty repeatable textures ranging from paper to fabric to subtle grunge and noise. Each one of them is fully tile-able and will work perfect for website background or pattern overlays in photoshop. The zip file includes each texture in both 1200px and 500px sizes as well as a Photoshop .PAT file for easy integration. Enjoy!
Textures library - free surfaces for 3ds Max, LightWave
3d Free-3D-Texture For Interior Design
Fine Fabric Textures 3dstudio Max
Free Textures from TextureKing
[CG Textures] - Textures for 3D, graphic design and Photoshop!
[CG Textures] - Log in
Free High Resolution Textures - gallery
Ana Sayfa | American Hardwood Export Council
Textures per il rendering
Free Texture Packs To Spice Up Your Designs - Noupe Design Blog - StumbleUpon
Feb 25 2011 Every day we try our best to present to you some useful tips, dear reader, to inspire you with fresh ideas and to try out new things. Today, we've prepared a nice collection of free texture packs that you just may have been looking for to freshen up your designs you're working on. Enjoy!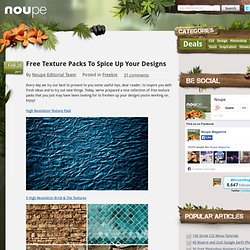 there are certain plants that continue to pop up in beautifully styled homes in magazines or blogs or instagram. first it was the delicious monster, then it was the fiddle leaf fig, and now it's the Chinese Money Plant aka Pilea peperomioides. this is probably the most interesting one of them all, not just in looks but also because of the amazing story behind it. the unusual little plant started popping up in households all over Britain in the seventies, which puzzled botanists as the species had not even been officially identified. eventually they traced the origin of the plant to a range of mountains in the Yunnan province of China. but HOW did it get to Britain?
Living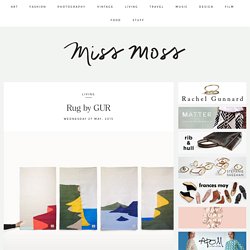 9 Designer Color Palettes for Better Homes & Gardens | Interior Design Blog - Interior Design Ideas, Tips & Inspiration
Decorating by Color: Superneutral Decorating Palettes and Projects - Martha Stewart
We scoured the spectrum to find 18 hues that offer you a neutral look that's enhanced by a hint of color -- making them more complex and sophisticated than the usual beige or off-white. Even if you've never been brave with color, you can use one of these paints. They will enliven what's already in your rooms, whether your style is modern or traditional, vibrant or restrained. And a little goes a long way. We've used these hues in simple, do-it-in-a-day painting projects -- from furniture and lampshades to walls and ceilings -- that can completely transform a room. 1.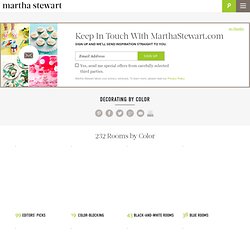 The Best Free Fonts
Adam Rose isn't someone you would imagine as having been a policeman. He's copresident of Rose Associates, the real-estate firm that has provided his family with the means to become prominent New York philanthropists—their name adorns the Rose Main Reading Room of the New York Public Library, the Rose Theater at Lincoln Center, and the Rose Center for Earth and Space at the American Museum of Natural History. When he was a student at Yale, however, Rose served as an auxiliary trooper with the Connecticut State Police. In 1991, while attending a meeting of gay police officers, he met Peter McQuillan, a sergeant with the New York City Police Department. They've been together ever since.
A Miami Beach House in the Sky Decorated by B Five Studio on ELLEDECOR.com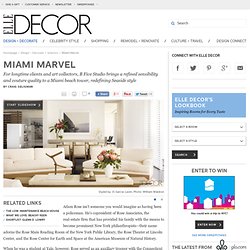 CribcandyThe Best from Household and Interior Design Blogs Around the World, Every Day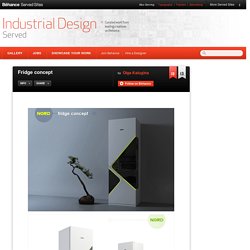 Fridge concept Outside surface of the fridge looks like compositionwith right and clear geometry. There is light on the doors, that also showswhen the fridge is on. When the door is open light is switching on and off.In this project all elements have new places.
Fridge concept on Industrial Design Served - StumbleUpon
Check out my cool home design on Autodesk Homestyler! - StumbleUpon
© 2013 Autodesk, Inc. All rights reserved. Use of the service is subject to the Homestyler Terms of Use.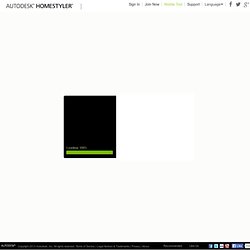 5387 items below
Sheet Set - All Art - StumbleUpon