Relationship
The Best Birth Control In The World Is For Men | Techcitement* By Jon Clinkenbeard.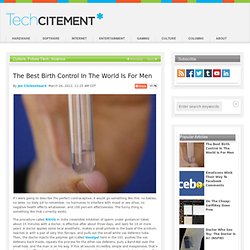 March 26, 2012, 11:25 AM CDT If I were going to describe the perfect contraceptive, it would go something like this: no babies, no latex, no daily pill to remember, no hormones to interfere with mood or sex drive, no negative health effects whatsoever, and 100 percent effectiveness. Doing Sex – Tips for the Adventurous Asexual « Shades of Gray. Most of the time, when asexuals talk about sex, we're engaged in the task of pointing out why it's overrated, and why sexual people are wrong to dismiss our perspectives as being the result of several d-words: delusion, denial, disorder, disability, disease, dysfunction, or damage done by some kind of (apparently dis-remembered) abuse.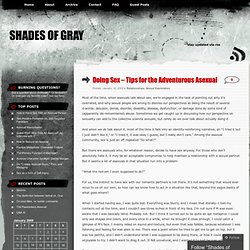 Sometimes we get caught up in discussing how our perspective on sexuality can add to the collective scientia sexualis, but rarely do we ever talk about actually doing it. And when we do talk about it, most of the time it falls into an identity-reinforcing narrative, an "I tried it but I just didn't like it," or "I tried it, it was okay I guess, but I really don't care." Among the asexual community, sex is just an oft-repeated "So what?" But there are asexuals who, for whatever reason, decide to have sex anyway.
For those who don't absolutely hate it, it may be an acceptable compromise to help maintain a relationship with a sexual partner. Everyday Better Living - 100 Questions for couples - before marriage, love relationship questions, love question relationship, questions to ask before you marry, couple therapy, fix marriage, couples help, intimate questions to ask your partner, important. A few seconds...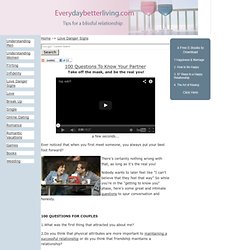 Ever noticed that when you first meet someone, you always put your best foot forward? There's certainly nothing wrong with that, as long as it's the real you! Nobody wants to later feel like "I can't believe that they feel that way" So while you're in the "getting to know you" phase, here's some great and intimate questions to spur conversation and honesty. 1.What was the first thing that attracted you about me? 100 Things For LDR Couples To Do From A Distance! | Long Distance Relationship Activities. People in long distance relationships can have a hard time staying connected, because couples are limited in what they can do together.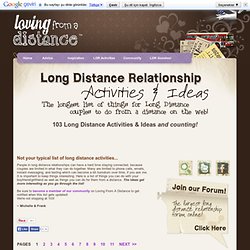 Many are limited to phone calls, emails, instant messaging, and texting which can become a bit humdrum over time, if you ask me. It is important to keep things interesting. Here is a list of things you can do with your boyfriend/girlfriend as well as things you can do for them from a distance. The ideas get more interesting as you go through the list! Be sure to become a member of our community on Loving From A Distance to get notified when this list gets updated! Asking the Right Questions: Consent and Compromise. Content warning: frank but non-graphic discussion of constrained consent and sexual coercion including a non-graphic mention of sexual violence in the context of intimate relationships.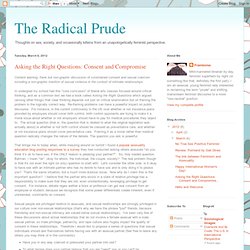 In undergrad my school had this "core curriculum" of liberal arts classes focused around critical thinking, and as a common text we had a book called Asking the Right Questions which argued (among other things) that clear thinking depends not just on critical examination but on framing the problem in the logically correct way. Re-framing problems can have a powerful impact on public discourse.
How to Have Sex With an Asexual Person « Shades of Gray. [Content Note: This post mentions non-consensual situations mostly in a theoretical way, without going into detail.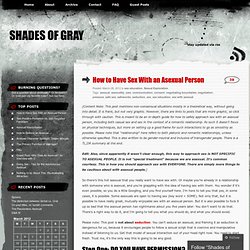 It is frank, but not very graphic. However, there are links to posts that are more graphic, so click through with caution. This is meant to be an in-depth guide for how to safely approach sex with an asexual person, including both casual sex and sex in the context of a romantic relationship. As such it doesn't focus on physical techniques, but more on setting up a good frame for such interactions to go as smoothly as possible.
---