AVR
AVR Tutorial: Switch Input and Debounce. Though an input can be from any number of sources, one of the mose common and the easiest to implement, would be a swith.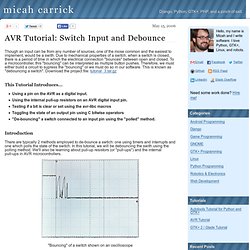 Due to mechanical properties of a switch, when a switch is closed, there is a period of time in which the electrical connection "bounces" between open and closed. To a microcontroller, this "bouncing" can be interpreted as multiple button pushes. Therefore, we must either build a circuit to supress the "bouncing" or we must do so in our software.
This is known as "debouncing a switch".
EEPROM
SD card. USB interface. AVRStudio - tomasxvi - A brief tutorial - Wiki. 1.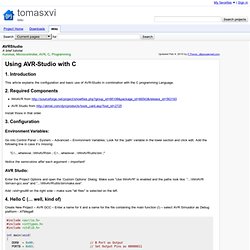 Introduction This article explains the configuration and basic use of AVR-Studio in combination with the C programming Language. 2. Using AVR Studio 5 « maxEmbedded. Hello folks!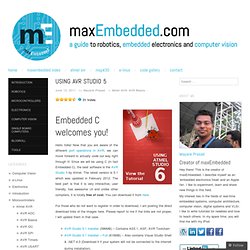 Now that you are aware of the different port operations in AVR, we can move forward to actually code our way right through it! Since we will be using C (in fact Embedded C), the best software is the AVR Studio 5 by Atmel. The latest version is 5.1 which was updated in February 2012. Interface the Atmega 16/32 with the PC « Praveendb's Weblog.
There are many ways to interface your microcontroller to computer , the most easiest way is using serial port and MAX-232.In this tutorial is about how to interface a ATMEGA32 to your computer using serial port , max232 and programming the atmega32 using CodeVisionAVR.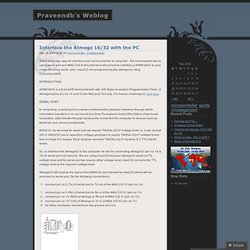 ATMEGA32 is a 8-bit AVR microcontroller with 32K Bytes In-system Programmable Flash. In Atmega32pins pin no.14 and 15 are RxD and TxD resp. AVR Programming - AVR Studio Tutorial Introduction.
C programming
Serial. ENGINEERING - Data Acquisition FAQ. How to Build a Robot Tutorial - Society of Robots. What is the UART?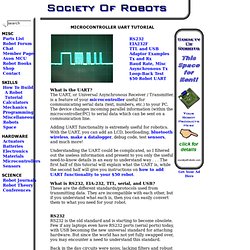 The UART, or Universal Asynchronous Receiver / Transmitter, is a feature of your microcontroller useful for communicating serial data (text, numbers, etc.) to your PC. The device changes incoming parallel information (within the microcontroller/PC) to serial data which can be sent on a communication line. Adding UART functionality is extremely useful for robotics. With the UART, you can add an LCD, bootloading, bluetooth wireless, make a datalogger, debug code, test sensors, and much more!
---