Nds
Change The Location Of The Documents Folder In Vista ~ Windows Fanatics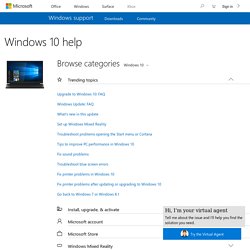 Como alterar o local padrão da pasta Meus documentos
This article describes how to change the default location of the My Documents folder in Microsoft Windows XP. The My Documents folder is your own personal folder in which you can store your documents, graphics, and other personal files. When there is more that one person using the computer, Windows creates a My Documents folder for each user on the computer. By default, the target or actual location of the My Documents folder is C :\Documents and Settings\ \My Documents, where C is the drive in which Windows is installed, and is the currently logged-on user. You can change the target if you want My Documents to point to a different folder location.
Favicon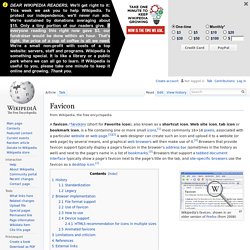 A favicon pron.: / ˈ f æ v ɪ k ɒ n / (short for Favorite icon ), also known as a shortcut icon , Web site icon , URL icon , or bookmark icon , is a file containing one or more [ 1 ] small icons , most commonly 16×16 pixels , associated with a particular Web site or Web page . [ 1 ] [ 2 ] A web designer can create such an icon and install it into a Web site (or Web page) by several means, and graphical web browsers will then make use of it. [ 3 ] Browsers that provide favicon support typically display a page's favicon in the browser's address bar (sometimes in the history as well) and next to the page's name in a list of bookmarks . [ 3 ] Browsers that support a tabbed document interface typically show a page's favicon next to the page's title on the tab, and site-specific browsers use the favicon as desktop icon . [ 1 ] Wikipedia's favicon, shown in an older version of Firefox (from 2008). [ edit ] History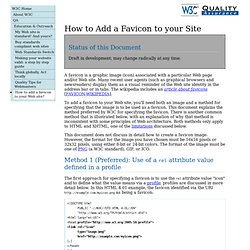 Status of this Document Draft in development; may change radically at any time. A favicon is a graphic image (icon) associated with a particular Web page and/or Web site. Many recent user agents (such as graphical browsers and newsreaders) display them as a visual reminder of the Web site identity in the address bar or in tabs.
How to Add a Favicon to your Site - QA @ W3C
Bookmark Icon