Fashion
DIY Macrame Bracelet. Growing up by the beach in Southern California, the ability to knot a macrame bracelet was practically a right of passage.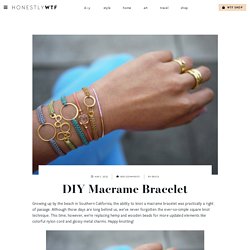 Although those days are long behind us, we've never forgotten the ever-so-simple square knot technique. This time, however, we're replacing hemp and wooden beads for more updated elements like colorful nylon cord and glossy metal charms. Happy knotting! Art Inspired Outfits III. DIY Braided Bead Bracelet. It's been awhile since our last bracelet DIY.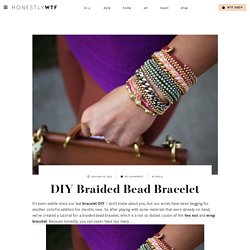 I don't know about you, but our wrists have been begging for another colorful addition for months now. So after playing with some materials that were already on hand, we've created a tutorial for a braided bead bracelet, which is a not so distant cousin of the hex nut and wrap bracelet. How to make wrapped leather bracelets « Rings and Things. Triple-wrap leather bracelet with blue tigereye beads Let me begin by stating the obvious – this style of wrapped leather bracelet is EVERYWHERE this season.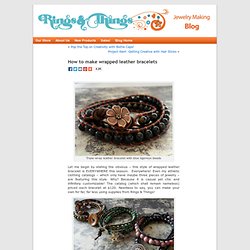 Everywhere! Even my athletic clothing catalogs – which only have maybe three pieces of jewelry – are featuring this style. Why? Because it is casual yet chic and infinitely customizable! DIY Wrap Bracelet. You should all know by now that we are all about stacking bracelets on our wrists.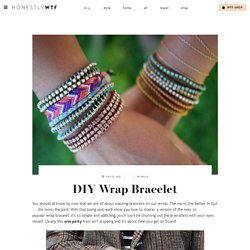 The more, the better. In fact . . . the most, the best!
---