Unsorted
Innocent Mom or Would-Be Terrorist? Trial for Neuroscientist Nea. NEW YORK – Jurors heard a U.S.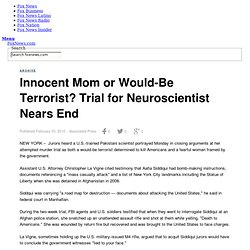 -trained Pakistani scientist portrayed Monday in closing arguments at her attempted murder trial as both a would-be terrorist determined to kill Americans and a fearful woman framed by the government. Assistant U.S. Attorney Christopher La Vigne cited testimony that Aafia Siddiqui had bomb-making instructions, documents referencing a "mass casualty attack" and a list of New York City landmarks including the Statue of Liberty when she was detained in Afghanistan in 2008.
Older Adults Need Less Sleep - Neurology | Alzheimer's Disease | How much sleep we need is largely a mystery, and sleep seems tougher to come by as we age.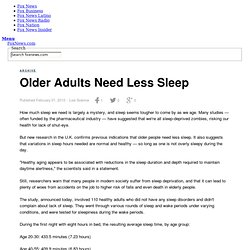 Many studies — often funded by the pharmaceutical industry — have suggested that we're all sleep-deprived zombies, risking our health for lack of shut-eye. But new research in the U.K. confirms previous indications that older people need less sleep. Henrietta Lacks' 'Immortal' Cells | Science & Nature | Smithsoni. The Top Ten VC Blogs (New And Improved) Every so often, venture capitalist Larry Cheng puts out a list of the top VC blogs.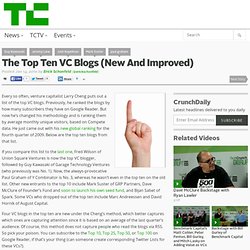 Previously, he ranked the blogs by how many subscribers they have on Google Reader. But now he's changed his methodology and is ranking them by average monthly unique visitors, based on Compete data. He just came out with his new global ranking for the fourth quarter of 2009. PlayStation 3 'hacked' by iPhone cracker. A US hacker who gained notoriety for unlocking Apple's iPhone as a teenager has told BBC News that he has now hacked Sony's PlayStation 3 (PS3).
George Hotz said the hack, which could allow people to run pirated games or homemade software, took him five weeks. He said he was still refining the technique but intended to post full details online soon. The PS3 is the only games console that has not been hacked, despite being on the market for three years. "It's supposed to be unhackable - but nothing is unhackable," Mr Hotz told BBC News.
100-year-old child molester back in jail - Crime & courts- msnbc. BUFFALO, N.Y. — A 100-year-old pedophile is been jailed again after failing to comply with terms of his parole, a newspaper reported Tuesday.
It's the second time that Theodore A. Sypnier, who has a more than 60-year history of sexually molesting children, has been declared in violation of parole for his conviction involving attacks on two sisters in the late 1990s, the Buffalo News reported on its Web site. New York's oldest registered sex offender had moved out of a Buffalo halfway house for released inmates and into a place of his own in December, after completing his latest term in state prison for molesting little girls.
But authorities on Monday said Sypnier had been detained for failure to participate in sex offender counseling. Sypnier's youngest daughter, an out-of-state resident who has told investigators she and another girl were raped by him as children, expressed relief Monday afternoon. Taxpayers pay $101,000 for Pelosi's in-flight 'food, booze'
Text smaller Text bigger It reads like a dream order for a wild frat party: Maker's Mark whiskey, Courvoisier cognac, Johnny Walker Red scotch, Grey Goose vodka, E&J brandy, Bailey's Irish Crème, Bacardi Light rum, Jim Beam whiskey, Beefeater gin, Dewars scotch, Bombay Sapphire gin, Jack Daniels whiskey … and Corona beer.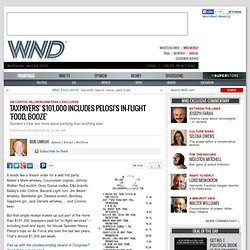 But that single receipt makes up just part of the more than $101,000 taxpayers paid for "in-flight services" – including food and liquor, for House Speaker Nancy Pelosi's trips on Air Force jets over the last two years. That's almost $1,000 per week. Obama plans $33 billion tax credit for jobs and wages - Jan. 28, Obama hopes tax credits will motivate small companies to hire, but business owners like Jimmie Hughes say the approach is backward: to hire, Hughes needs sales and cash, not tax cuts.By Catherine Clifford, staff reporterJanuary 29, 2010: 2:02 PM ET NEW YORK (CNNMoney.com) -- When President Obama called last month for a new tax break to spur job creation, critics blasted him for offering no specifics.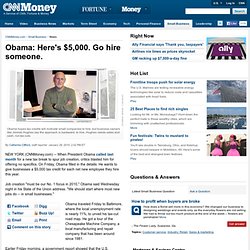 On Friday, Obama filled in the details: He wants to give businesses a $5,000 tax credit for each net new employee they hire this year. Film features: 14 Most Depressing Movies Ever. Sign In. Top Tech Acquisitions Of 2009. We track a lot of acquisitions on CrunchBase.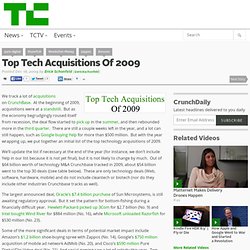 At the beginning of 2009, acquisitions were at a standstill. But as the economy begrudgingly roused itself from recession, the deal flow started to pick up in the summer, and then rebounded more in the third quarter. There are still a couple weeks left in the year, and a lot can still happen, such as Google buying Yelp for more than $500 million. The Dial Brings a Fashion Edge to Cell Phone Technology.
While Google and Apple are racing to create phones with the most apps and fastest internet speeds, none of the technology giants are thinking outside the design box when it comes to the form of a phone.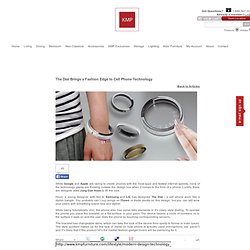 Luckily, there are designer slike Jung Dae Hoon to fill the void. Hoon, a young designer with ties to Samsung and LG, has designed The Dial - a cell phone worn like a stylish bangle. You probably can't buy songs on iTunes or trade stocks on this design, but you can still wow your peers with something brand new and stylish. While being futuristically chic, the phone also has some retro elements in it's rotary style dialing. To operate the phone you place the bracelet on a flat surface or your palm. Ron Paul Warns Of Coming "Social And Political Chaos" Steve WatsonInfowars.net Friday, Jan 22, 2010 Texas Congressman Ron Paul has delivered a riveting "State of The Republic" address on his Campaign for Liberty website, orating his thoughts on where the U.S. stands as a nation and what the future holds.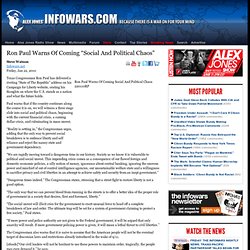 Paul warns that if the country continues along the course it is on, we will witness a three stage slide into social and political chaos, beginning with the current financial crisis, a coming dollar crisis, and culminating in mass unrest. Obama's proposed budget for NASA starts moon war on earth - wash. The Obama administration is killing Constellation, NASA's ambitious back-to-the moon program. The decision represents a thunderous demolition of the Bush-era strategy at the space agency, which had already poured $9 billion into a new rocket, the Ares 1, and a new crew capsule, Orion.
Both were years from completion. And now both have been spiked by the administration's 2011 budget, released Monday. The budget includes $2.5 billion over the next two years to shut down Constellation. Nasa photographs 'trees' on Mars. 'Transformers,' 'Land of the Lost' lead Razzies - MSN Movies New. Dem. senators spent weekend with bank, energy, tobacco lobbyists. February 01, 2010 Twelve Democratic Senators spent last weekend in Miami Beach raising money from top lobbyists for oil, drug, and other corporate interests that they often decry, according to a guest list for the event obtained by POLITICO.
The guest list for the Democratic Senatorial Campaign Committee's "winter retreat" at the Ritz Carlton South Beach Resort doesn't include the price tag for attendance, but the maximum contribution to the committee, typical for such events, is $30,000. US raises stakes on Iran by sending in ships and missiles | Worl. Tension between the US and Iran heightened dramatically today with the disclosure that Barack Obama is deploying a missile shield to protect American allies in the Gulf from attack by Tehran. The US is dispatching Patriot defensive missiles to four countries – Qatar, United Arab Emirates, Bahrain and Kuwait – and keeping two ships in the Gulf capable of shooting down Iranian missiles.
Washington is also helping Saudi Arabia develop a force to protect its oil installations. American officials said the move is aimed at deterring an attack by Iran and reassuring Gulf states fearful that Tehran might react to sanctions by striking at US allies in the region. The 12 Most Insane Things You Can Buy on the Internet | Cracked. Many people feel compelled to waste their money on lame things like clothing, food and baby formula. Fortunately, besides allowing us to download porn at the speed of masturbation, the Internet has made it possible for us to buy virtually anything we can imagine, regardless of how ludicrous it may be. We've always been under the impression that world domination was one of those things, like family and good health, that you can't put a price tag on. Well, a Japanese company called Sakakibara-Kikai has developed a commercial battle-mech called the Land Walker, which you can buy from their website for a paltry $350,000.
What's New in ScribeFire 3.5? - Scribefire: Fire up your bloggin. Hundreds of Mostly Tiny Quakes Are Rattling Yellowstone Park - N.
---