Unsorted 2
13 Incredibly WTF Body Modifications. Again and again, human beings have shown off their willingness to pierce, poke and alter every facet of their bodies.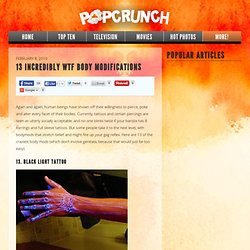 Currently, tattoos and certain piercings are seen as utterly socially acceptable, and no-one blinks twice if your barista has 8 earrings and full sleeve tattoos. But some people take it to the next level, with bodymods that stretch belief and might fire up your gag reflex. Here are 13 of the craziest body mods (which don't involve genitalia, because that would just be too easy). Last speaker of ancient language of Bo dies in India. The last speaker of an ancient language in India's Andaman Islands has died at the age of about 85, a leading linguist has told the BBC.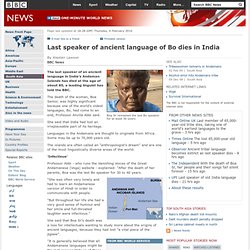 The death of the woman, Boa Senior, was highly significant because one of the world's oldest languages, Bo, had come to an end, Professor Anvita Abbi said. She said that India had lost an irreplaceable part of its heritage. Obama firm on Dalai Lama meeting despite China warnin. US President Barack Obama intends to go ahead with plans to meet the Dalai Lama despite warnings from China not to, a White House spokesman has said.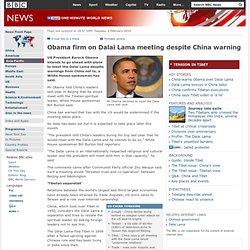 Mr Obama told China's leaders last year in Beijing that he would meet with the Tibetan spiritual leader, White House spokesman Bill Burton said. China has warned that ties with the US would be undermined if the meeting takes place. "Sorry, I'm Dead": 30 Most Memorable Video Game Quotes - Orange. Take a break from playing Mass Effect 2--we all know you're playing it.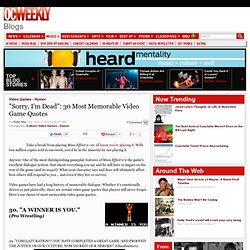 With two million copies sold in one week, you'd be in the minority by not playing it. Anyway: One of the most distinguishing gameplay features of Mass Effect 2 is the game's excellent dialogue system. Just about everything you say and do will have in impact on the rest of the game (and its sequel): What your character says and does will ultimately affect how others will respond to you... and even if they live or survive. Video games have had a long history of memorable dialogue. Internet uprising overturns Australian censorship law. The state of South Australia has a new election law that went into effect January 6, and its effect was shocking: anonymous political speech on the Internet was simply destroyed.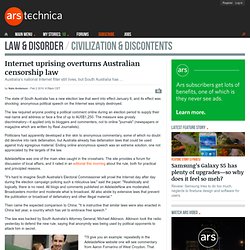 The law required anyone posting a political comment online during an election period to supply their real name and address or face a fine of up to AUS$1,250. The measure was grossly discriminatory—it applied only to bloggers and commenters, not to online "journals" (newspapers or magazine which are written by Real Journalists). The 10 Coolest Experiments from Google Labs. When you've got thousands of the world's most brilliant engineers spending 20% of their time on whatever takes their fancy, you need a home for the results.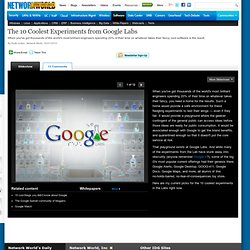 Such a home would provide a safe environment for these fledgling experiments to test their wings — even if they fail. It would provide a playground where the geekier contingent of the general public can access ideas before those ideas are ready for public consumption. It would be associated enough with Google to get the brand benefits, and quarantined enough so that it doesn't put the core service at risk. That playground exists at Google Labs. Did Google Just Multi-Punch Apple In The Face? As great as Android phones are getting, there has been one major feature lacking that users have complained about: multi-touch.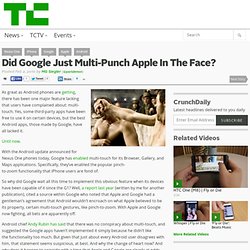 Yes, some third-party apps have been free to use it on certain devices, but the best Android apps, those made by Google, have all lacked it. Until now. Bing, Google, And The Enigmatic T2: The Race For A Complete Sema. Yesterday, Bing released a surprisingly useful new feature around recipe search.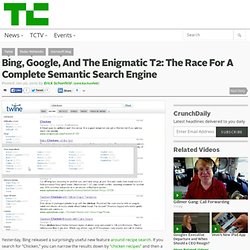 If you search for "Chicken," you can narrow the results down by "chicken recipes" and then a whole bunch of new filtering options appear down the left-hand column. You can further narrow results by recipe rating, cuisine (vegetarian, Spanish, Southwestern), convenience (quick/easy, family, entertaining), occasion (wedding, Valentine's Day), main ingredient, course, or cooking method. Bing is big on guided search (showing relevant search categories to help narrow results), but this goes one step further towards semantic search (the ability to index and search the Web by different facets). YouTube Will Start Charging for Some Videos. Starting this weekend, YouTube will be dipping its toe into the waters of paid content.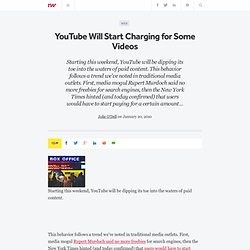 This behavior follows a trend we've noted in traditional media outlets. First, media mogul Rupert Murdoch said no more freebies for search engines, then the New York Times hinted (and today confirmed) that users would have to start paying for a certain amount of access to articles. Now, YouTube is partnering with the Sundance Film Festival and filmmakers to charge users around $5 to view a range of movies from the 2009 and 2010 festivals. It's still cheaper than a movie ticket - but is this a direction users will follow? Rape victim uses fake phone call to help police find her. UTAH COUNTY -- A Sandy man was arrested on suspicion of kidnapping and rape after a woman used quick thinking to get word to police that she needed help.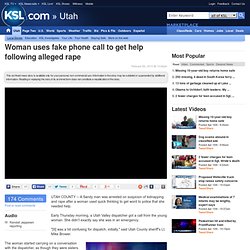 Early Thursday morning, a Utah Valley dispatcher got a call from the young woman. She didn't exactly say she was in an emergency. "[It] was a bit confusing for dispatch, initially," said Utah County sheriff's Lt. Kulula-air tries not to take itself too seriously. Jive Software Acquires Social Media Monitoring Startup Filtrbox. Businesses and brands have already caught onto the immense power of the social stream that runs through Twitter and Facebook to track the pulse of conversations around consumers. Both tech giants and startups are competing to provide enterprise-friendly, social platforms to businesses that combine both collaboration and social media monitoring.
Socialtext and CubeTree offer compelling social collaboration offerings to the enterprise. The 20 Worst Restaurant Foods in America. If-your-password-is-123456-just-make-it-hack-me.html: Personal F. Want to become a billionaire? Up your chances by dropping out of college, working at Goldman Sachs or joining Skull & Bones. Are billionaires born or made? What are the common attributes among the uber-wealthy? Google shows off Chrome OS tablet ideas. More Churches Promote Martial Arts to Reach Young Men - NYTimes. Girl, 9, gives birth to health baby boy.
By Richard Shears Updated: 12:44 GMT, 3 February 2010 A nine-year-old Chinese schoolgirl has become one of the world's youngest mothers after giving birth to a healthy boy. The unnamed girl was brought to a hospital in Changchun, which lies in the north-east of the country, when she was eight and a half months pregnant.
White House Prepares for Possibility of Two Supreme Court Vacanc. Lawyers for President Obama have been working behind the scenes to prepare for the possibility of one, and maybe two Supreme Court vacancies this spring. Court watchers believe two of the more liberal members of the court, justices John Paul Stevens and Ruth Bader Ginsburg, could decide to step aside for reasons of age and health. That would give the president his second and third chance to shape his legacy on the Supreme Court. Untitled. Bosom bombers: Women have explosive breast implants.
Text smaller Text bigger Editor's Note: The following report is excerpted from Joseph Farah's G2 Bulletin, the premium online newsletter published by the founder of WND. Subscriptions are $99 a year or, for monthly trials, just $9.95 per month for credit card users, and provide instant access for the complete reports.
LONDON – Agents for Britain's MI5 intelligence service have discovered that Muslim doctors trained at some of Britain's leading teaching hospitals have returned to their own countries to fit surgical implants filled with explosives, according to a report from Joseph Farah's G2 Bulletin. Women suicide bombers recruited by al-Qaida are known to have had the explosives inserted in their breasts under techniques similar to breast enhancing surgery. Analyzing The Fallout: New Vegas Trailer - Fallout: new vegas - WCBS NEWSRADIO 880 - Heinz Revamps Ketchup Packets.
---