Social Bookmarking
Get flash to fully experience Pearltrees
Twitter has begun rolling out location-based trending topics. The product is officially called Local Trends . In a statement to us, Twitter said the following: "We're rolling out local trends to 1 percent of users today, but we'll share more information when it reaches a larger audience hopefully sometime next week. We'll keep you posted when that happens." The pictures below, courtesy of @lisabarone , show the new feature in all of its glory.
Back in March 2009 a trio of MySpace execs -COO Amit Kapur , SVP Steve Pearman and SVP Jim Benedetto – left to begin working on a new startup . In May we learned that the company, then called Blue Rover Labs, had raised $10 million in funding . We also heard a few details about what the startup might be about: <em "The company is supposedly targeting the message board/Internet forum space with technology that aggregates content and serves advertising against it. Real time search (bingo! fundable!)
Hello, old friends. I am back from dark months of data mining, here now to present my ores. To write this piece, we cataloged over 7,000 photographs on OkCupid.com , analyzing three primary things:
News Corp-owned HarperCollins this morning put out a release about the launch of Inkpop.com , an interactive writing platform for teens. Which caught us off guard, because the U.S. publisher had already soft-launched the website on its Authonomy blog on November 24, 2009. Anyway: Inkpop is a project from HarperTeen , HarperCollins Publishers' teen publishing unit. The platform aims to attract young readers and writers with a combination of community publishing features, user-generated content, and social networking elements. In addition, the company has engaged a group of international HarperCollins editors and authors to function as some sort of 'editorial board' whose job it is to review the site's top five monthly selections, provide teens with feedback and mentorship opportunities, while also considering their work for publication.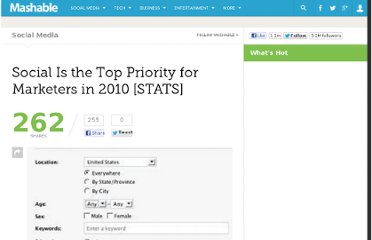 Money spent on social media-related advertising is already expected to grow significantly this year, and now we also know that the medium is considered the top priority in the digital space according to a survey of senior marketers. The research, published today in eMarketer, shows that 45.4% of respondents considered social a 'top priority' while another 42.2% deemed it 'important'. That narrowly beat out digital infrastructure for the top spot, with other marketing tactics like search, mobile, and blogger outreach trailing significantly. Here are the full results: Elsewhere, eMarketer reports on the metrics that marketers care most about, and the results support the notion that the page view is declining in relevance.
What social media tools are early adopters raving about so far in 2010?
Google has kept Social Search pretty much hidden from the general public, choosing to make it an opt-in Google Labs feature. Today, however, Google is pushing the feature to beta status and turning it on for all signed-in English Googlers. You may recall that Google Social Search is a standard search results page add-on that displays socially relevant content from people in your online social circle, as determined by your Google Profile.
by David Armano | 9:00 AM January 26, 2010 As organizations move their social media strategies from theory to practice, they discover a difficult truth they must confront: Finding the "perfect" social media talent is practically impossible. To start, the field is flooded with thousands of self proclaimed "experts" who have reinvented themselves to take advantage what looks like a growing business opportunity. Maybe they do know social media, but many don't. They need to be vetted.