Writing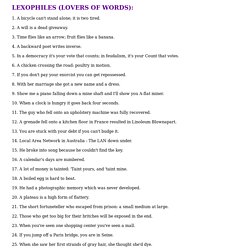 LEXOPHILES (LOVERS OF WORDS): 1.
The sentence's meaning becomes clearer when it's understood that it uses three meanings of the word buffalo: the city of Buffalo, New York, the somewhat uncommon verb "to buffalo" (meaning "to bully or intimidate"), as well as the animal buffalo. When the punctuation and grammar are expanded, the sentence could read as follows: "Buffalo buffalo that Buffalo buffalo buffalo, buffalo Buffalo buffalo." The meaning becomes even clearer when synonyms are used: "Buffalo bison that other Buffalo bison bully, themselves bully Buffalo bison."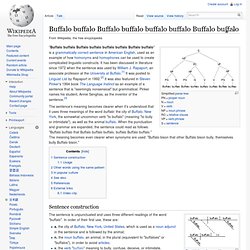 The Thirty-Six Dramatic Situations is a descriptive list which was created by Georges Polti to categorize every dramatic situation that might occur in a story or performance. To do this Polti analyzed classical Greek texts, plus classical and contemporaneous French works. He also analyzed a handful of non-French authors.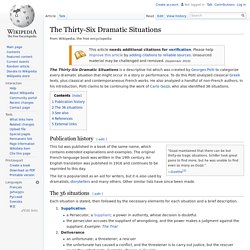 They lived in a typical suburban neighborhood with picket fences that resembled Nancy Kerrigan's teeth.