Writing
Lexophiles. LEXOPHILES (LOVERS OF WORDS): 1.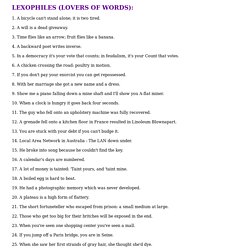 A bicycle can't stand alone; it is two tired. 2. A will is a dead giveaway. 3. Buffalo buffalo Buffalo buffalo buffalo buffalo Buffalo buffalo. The sentence's meaning becomes clearer when it's understood that it uses three meanings of the word buffalo: the city of Buffalo, New York, the somewhat uncommon verb "to buffalo" (meaning "to bully or intimidate"), as well as the animal buffalo.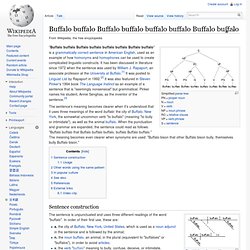 When the punctuation and grammar are expanded, the sentence could read as follows: "Buffalo buffalo that Buffalo buffalo buffalo, buffalo Buffalo buffalo. " The meaning becomes even clearer when synonyms are used: "Buffalo bison that other Buffalo bison bully, themselves bully Buffalo bison. "
The Thirty-Six Dramatic Situations. The Thirty-Six Dramatic Situations is a descriptive list which was created by Georges Polti to categorize every dramatic situation that might occur in a story or performance.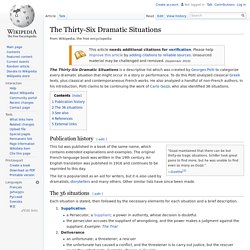 To do this Polti analyzed classical Greek texts, plus classical and contemporaneous French works. He also analyzed a handful of non-French authors. Fonts. The Worst Analogies Ever Written in a High School Essay. They lived in a typical suburban neighborhood with picket fences that resembled Nancy Kerrigan's teeth.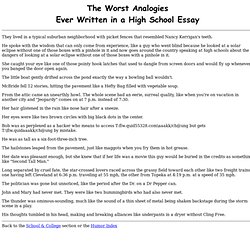 He spoke with the wisdom that can only come from experience, like a guy who went blind because he looked at a solar eclipse without one of those boxes with a pinhole in it and now goes around the country speaking at high schools about the dangers of looking at a solar eclipse without one of those boxes with a pinhole in it. She caught your eye like one of those pointy hook latches that used to dangle from screen doors and would fly up whenever you banged the door open again. The little boat gently drifted across the pond exactly the way a bowling ball wouldn't.
---