Mac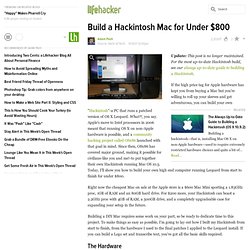 Update: This post is no longer maintained. For the most up-to-date Hackintosh build, see our always up-to-date guide to building a Hackintosh . If the high price tag for Apple hardware has kept you from buying a Mac but you're willing to roll up your sleeves and get adventurous, you can build your own " Hackintosh "-a PC that runs a patched version of OS X Leopard. What?!
Build a Hackintosh Mac for Under $800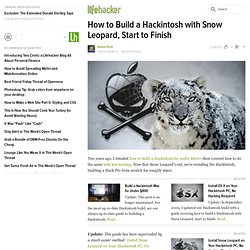 Two years ago, I detailed how to build a Hackintosh for under $800 —then covered how to do the same with less hacking . Now that Snow Leopard's out, we're revisiting the Hackintosh, building a Hack Pro from scratch for roughly $900. Update: This guide has been superceded by a much easier method: Install Snow Leopard on Your Hackintosh PC, No Hacking Required . For folks eager to try a Mac but never wanted to plunk down the high price tag to get it, the Hackintosh—that is, a regular PC tweaked to run OS X—has always been an attractive option.
How to Build a Hackintosh with Snow Leopard, Start to Finish
5.6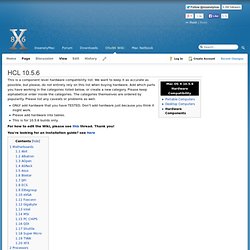 This is a component level hardware compatibility list. We want to keep it as accurate as possible, but please, do not entirely rely on this list when buying hardware. Add which parts you have working in the categories listed below, or create a new category. Please keep alphabetical order inside the categories. The categories themselves are ordered by popularity. Please list any caveats or problems as well.
Expand your experience - compatible hardware | Stell's Blog
Update: Our latest Hackintosh build is now here , and it's easier than ever and full of step-by-step video goodness. I'd strongly recommend following the newest guide. Two weeks ago I detailed how to build a Hackintosh with Snow Leopard, start to finish , with a little Terminal work.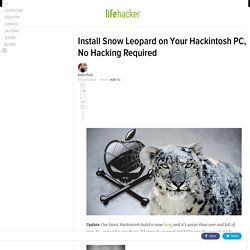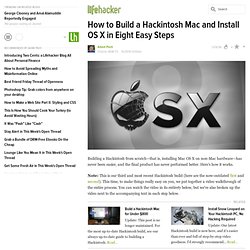 Building a Hackintosh from scratch—that is, installing Mac OS X on non-Mac hardware—has never been easier, and the final product has never performed better. Here's how it works. Note: This is our third and most recent Hackintosh build (here are the now-outdated first and second ). This time, to make things really easy on you, we put together a video walkthrough of the entire process. You can watch the video in its entirety below, but we've also broken up the video next to the accompanying text in each step below.
How to Build a Hackintosh Mac and Install OS X in Eight Easy Steps