Handcraft
MAFORDI ltda. 20 Outstanding & Outrageous Concept Cars from the Golden Age. Shining Examples: 20 Cool Concept Cars of the Golden Age Article by Steve, filed under Vintage & Retro in the Technology category.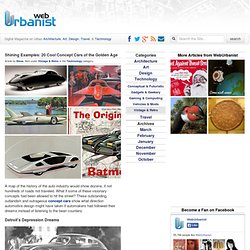 A map of the history of the auto industry would show dozens, if not hundreds of roads not traveled. What if some of these visionary concepts had been allowed to hit the street? These outstanding, outlandish and outrageous concept cars show what direction automotive design might have taken if automakers had followed their dreams instead of listening to the bean counters. Detroit's Depression Dreams. NYIGF :: New York International Gift Fair > Home.
Your Shopping Cart. Welcome to Phlatboyz, LLC - Unleash Your Creativity! Muvbox - TOUT EST DANS LA BOÎTE. Funny and Creative Design - Dumage. Funny and Creative Design These photos show us a several very creative, funny and inspiring things.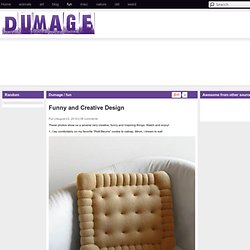 Watch and enjoy! 1. I lay comfortably on my favorite "Petit Beurre" cookie to catnap. Combo Couch: All-in-One Lounger, Love Seat + Sofa Bed = « Dornob. Sofa beds sneak two functions into one piece of furniture, but these designs go beyond the binary 'convertible couch' typology to be completely modular, comfortable for sitting up, laying back or lying down in any number of custom configurations.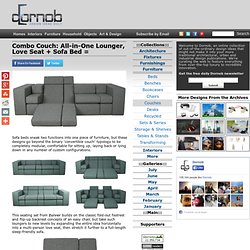 This seating set from Zuiver builds on the classic fold-out footrest and flip-up backrest concepts of an easy chair, but take such loungers to new levels by expanding the entire idea horizontally into a multi-person love seat, then stretch it further to a full-length sleep-friendly sofa. Each modular segment can be flipped in, out, up or down as desired by the people using each part of the seating space – a pair of chairs can be formed within the larger whole of the couch, or the entire system can open and accommodate a couple comfortably. Smaller versions are also interesting craft experiments, but the purpose seems less clear in a simple lounge chair variant. Hot or Cool? Color-Changing Chameleon Tiles « Dornob. There is virtually no limit to what you can decorate with color-changing tiles (from Inventables).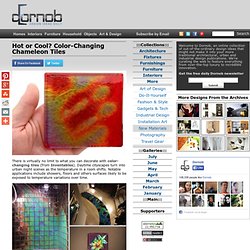 Daytime cityscapes turn into urban night scenes as the temperature in a room shifts. Notable applications include showers, floors and others surfaces likely to be exposed to temperature variations over time. While some of these are simply colored and relatively inexpensive there are all kinds of untapped design potentials yet to be explored. Perhaps they would make a good interior design match for an exterior application of some light transmitting concrete. Brave Space Design. Pop-Up Card Designer Pro. Ultimate Flash Face v0.42b. Paper model. Paper models, also called card models, "pepakura" or papercraft, are models constructed mainly from sheets of heavy paper, paperboard, card stock, or foam.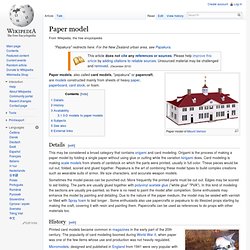 Details[edit] This may be considered a broad category that contains origami and card modeling. Origami is the process of making a paper model by folding a single paper without using glue or cutting while the variation kirigami does. Card modeling is making scale models from sheets of cardstock on which the parts were printed, usually in full color. These pieces would be cut out, folded, scored and glued together. El mayor archivo de planos de cometas - Kite Plan Base (KPB) Pepakura Designer. Modernica.net. Large Modern Planters | IAP - International Art Properties. Sucker Yellow | Droog Accessories | by Hoekstra & Ramakers. Sucker for Droog by Leon Ramakers - Jan Hoekstra Sucker - aquamarine by Jan Hoekstra & Leon Ramakers for Droog Related by Jan Hoekstra & Leon Ramakers * € 8,22 outside the EU.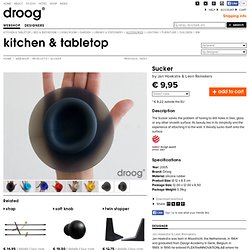 Design | Free People Clothing Boutique Blog. We have a beautiful exhibit hanging in Gallery 543 at the Navy Yard right now that consists of flags by artist Emily Manalo Ruiz .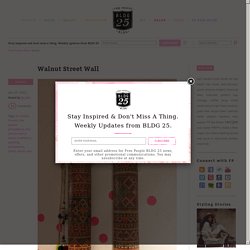 The main portion of the exhibit is the "1000 Works Project", which consists of 1000 small fabric flags, each of which are unique, sewn out of salvaged materials and inspired by old battle flags. The exhibit also includes some of her larger flags, also made with reclaimed materials, that are text-based and printed with meaningful, personal phrases. "Art, for me, is cathartic. It serves as an outlet for releasing deep-seated pains, capturing fleeting memories, and for understanding and documenting my life experience.
---