GIS
Shop: Online Shopping for Vector and Georeferenced Historical Maps - Geographic Information System History Maps
diciembre 2007
Mapas Bogotá
Mapa Callejero - Alcaldía Mayor de Bogotá - Control Barra Espaciadora si tiene discapacidad visual
Portal de mapas Bogotá
1-Interoperable Three-Dimensional GIS
Urban Modeling with ArcGIS 3D Analyst and SketchUp This article describes what happened when 13 urban planning and architecture faculty members and students at Florida Atlantic University (FAU), who had no proficiency in CAD or GIS software, came together to create an interactive three-dimensional GIS for a portion of downtown Fort Lauderdale in only 12 days. A working integration of three-dimensional models with georeferenced databases holds great promise for physical planning and design. It allows for simulation, visualization, shadow studies, urban wind effects, and neighborhood compatibility studies. Esri has made significant strides in the functionality of the ArcGIS 3D Analyst extension (which includes the ArcScene and ArcGlobe applications). Interoperability with dedicated three-dimensional modeling software packages, such as Google SketchUp, provide even more opportunities for real-time and interactive analyses.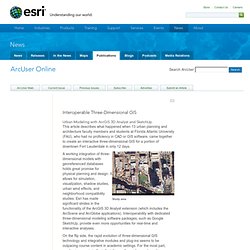 Let's describe the whole world!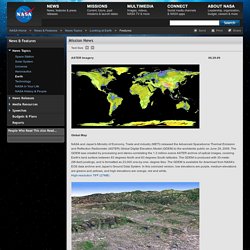 ASTER Imagery
Global Map NASA and Japan's Ministry of Economy, Trade and industry (METI) released the Advanced Spaceborne Thermal Emission and Reflection Radiometer (ASTER) Global Digital Elevation Model (GDEM) to the worldwide public on June 29, 2009. The GDEM was created by processing and stereo-correlating the 1.3 million-scene ASTER archive of optical images, covering Earth's land surface between 83 degrees North and 83 degrees South latitudes. The GDEM is produced with 30-meter (98-feet) postings, and is formatted as 23,000 one-by-one- degree tiles.
Anthropogenic biomes - Encyclopedia of Earth
This article has been reviewed by the following Topic Editor: Mark McGinley Anthropogenic biomes describe globally-significant ecological patterns within the terrestrial biosphere caused by sustained direct human interaction with ecosystems , including agriculture , urbanization, forestry and other land uses. Conventional biomes , such as tropical rainforests or grasslands , are based on global vegetation patterns related to climate.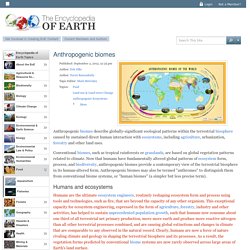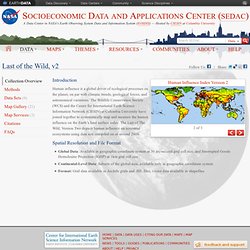 Introduction Human influence is a global driver of ecological processes on the planet, on par with climatic trends, geological forces, and astronomical variations. The Wildlife Conservation Society (WCS) and the Center for International Earth Science Information Network (CIESIN) at Columbia University have joined together to systematically map and measure the human influence on the Earth's land surface today.
SEDAC - Last of the Wild: Home
Education Community :: Apple Macintosh and iOS Support
Blog There is a common misconception that there are no options for Apple Macintosh or IOS users who want to use GIS. There are several choices available for Apple Macintosh and iOS users: **Especially useful for those new to GIS Un-retouched screenshot of Intel-based Macintosh running Web browsers with ArcGIS.com Map Viewer (upper left) and Community Analyst (lower left), and, at the same time, Parallels running WindowsXP, with ArcMap (lower right) and ArcGlobe (upper right).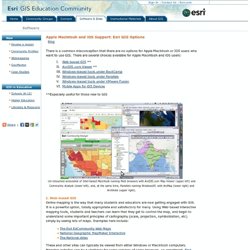 Home - Modelur
AOC's 3D building models can be customised to suit your requirements and software environment. These sophisticated 3D models are readily incorporated into stunning visualisations for design and planning applications. AOC has released three new 3D models of the South African World Cup Stadiums. Click the links below to view the 3D stadium fly throughs. Contact us to discuss your requirements or to learn about our existing off the shelf product range.
AOC - 3D Models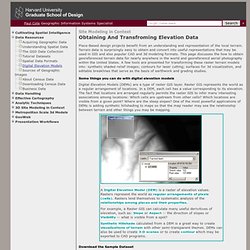 Site Modeling in Context Place-Based design projects benefit from an understanding and representation of the local terrain. Terrain data is surprisingly easy to obtain and convert into useful representations that may be used in GIS and also popular CAD and 3d modeling formats.
Digital Elevation Models
Publicaciones :: Informe urbanismo y TIC en España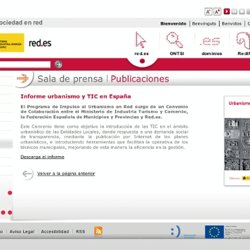 El Programa de Impulso al Urbanismo en Red surge de un Convenio de Colaboración entre el Ministerio de Industria Turismo y Comercio, la Federación Española de Municipios y Provincias y Red.es. Este Convenio tiene como objetivo la introducción de las TIC en el ámbito urbanístico de las Entidades Locales, dando respuesta a una demanda social de transparencia, mediante la publicación por Internet de los planes urbanísticos, e introduciendo herramientas que facilitan la operativa de los técnicos municipales, mejorando de esta manera la eficiencia en la gestión. Descarga el informe
GIS Software