HTML5
<canvas> est un nouvel élément HTML qui peut être utilisé pour dessiner des éléments graphiques à l'aide de scripts (habituellement JavaScript ). Il permet par exemple de dessiner des graphiques, de réaliser des compositions de photographies ou des animations simples (voire pas si simples ). L'image sur la droite montre quelques exemples d'implémentations utilisant <canvas> que nous verrons plus tard dans ce tutoriel. La première apparition de <canvas> a eu lieu dans le Dashboard de Mac OS X par Apple, et celui-ci a ensuite été intégré dans Safari.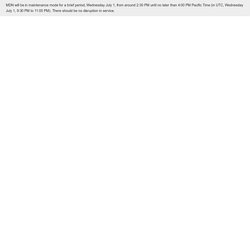 HTML5 Canvas Shadow Offset Tutorial
In this tutorial, we will demonstrate methods of saving the content of a HTML5 Canvas object using server side scripting. PHP will be used in this example, but the technique can be applied in other languages as well. This post requires understanding of Javascript, HTML (especially forms and/or AJAX). PHP is used in the example but the code is fairly simple and can be replicated in other languages. Here's The Example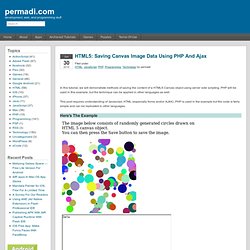 HTML5: Saving Canvas Image Data Using PHP And Ajax
canvas-svg - A set of components bridging <canvas> and SVG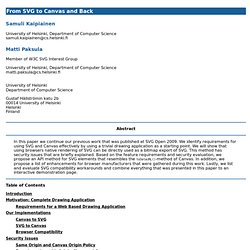 From SVG to Canvas and Back
At SVG Open 2009 we presented a method of using the bitmap content of Canvas element in SVG as an image element. This was done by utilizing canvas.toDataURL() -method that returns a base64-coded pixel representation of the canvas drawing context as a PNG image. This data URI can be set as source for a SVG Image element. In our demonstration we combined the best parts of SVG (vector drawing, native scene graph support) and Canvas (pixel drawing) in one trivial drawing application.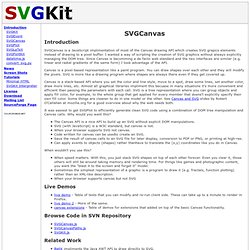 Introduction SVGCanvas is a JavaScript implimentation of most of the Canvas drawing API which creates SVG grapics elements instead of drawing to a pixel buffer. I wanted a way of scripting the creation of SVG graphics without always explicitly managing the DOM tree. Since Canvas is becomming a de facto web standard and the two interfaces are similar (e.g. linear and radial gradients of the same form) I took advantage of the API.
SVGCanvas
HTML5 Canvas - S. Fulton, J. Fulton Reilly, 2011) WW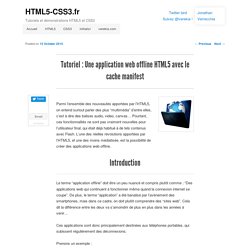 Parmi l'ensemble des nouveautés apportées par l'HTML5, on entend surtout parler des plus "multimédia" d'entre elles, c'est à dire des balises audio, video, canvas… Pourtant, ces fonctionnalités ne sont pas vraiment nouvelles pour l'utilisateur final, qui était déjà habitué à de tels contenus avec Flash. L'une des réelles révolutions apportées par l'HTML5, et une des moins médiatisée, est la possibilité de créer des applications web offline. Introduction Le terme "application offline" doit être un peu nuancé et compris plutôt comme : "Des applications web qui continuent à fonctionner même quand la connexion internet se coupe". De plus, le terme "application" a été banalisé par l'avènement des smartphones, mais dans ce cadre, on doit plutôt comprendre des "sites web".
Tutoriel : Une application web offline HTML5 avec le cache manifest
Web SQL Database
Abstract This specification defines an API for storing data in databases that can be queried using a variant of SQL. Status of This Document Beware. This specification is no longer in active maintenance and the Web Applications Working Group does not intend to maintain it further.