E-rramientas
Quix, un bookmarlet esencial.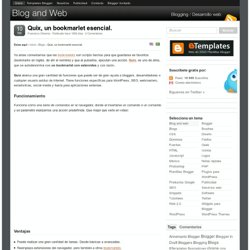 Ya antes comentamos que los bookmarlets son scripts hechos para que guardarse en favoritos ( en inglés, de ahí el nombre) y que al pulsarlos, ejecutan una acción. , es uno de ellos, que se autodenomina con y con razón
Yumpu – Transforma tus archivos PDF en revistas online
Si tenéis un catálogo en PDF, o una revista con vuestros últimos trabajos, o una novela que queráis divulgar gratuitamente en Internet, Yumpu.com os ofrece un servicio bastante interesante que permite obtener una revista online a partir del PDF que le informéis. Solo tenemos que subir el archivo e informar los datos de nuestro registro, obteniendo una dirección url donde cualquier persona podrá visitar la revista y pasar las páginas sin preocuparse del formato original del documento.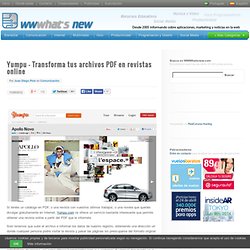 Si queréis poner enlaces, botones de "me gusta", popups, widgets y otros elementos interactivos dentro de vuestro vídeo, echad un vistazo en clickberry.com/cic. Se trata de una aplicación creada con Adobe Air, para Windows y Mac, que permite añadir objetos de varios tipos que pueden activarse y desactivarse durante la visualización del vídeo.
clickberry interactivity creator, para añadir elementos interactivos en nuestros vídeos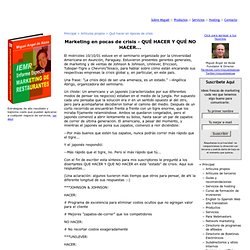 Marketing en pocas de crisis-Marketineros.com
Marketing en pocas de crisis - QUÉ HACER Y QUÉ NO HACER... El miércoles 10/10/01 estuve en el seminario organizado por la Universidad Americana en Asunción, Paraguay.
Herramientas de presentación
Here are 10 top of the line programs that will help you take your PowerPoint presentation global. If you haven't used any of these to create some great video, give them a shot! 1.
Top 10 Presentation Softwares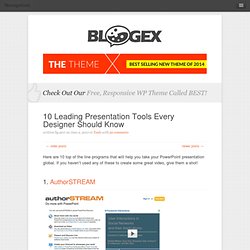 Herramientas de presentación
Spreaker nos permite transmitir en directo desde cualquier lugar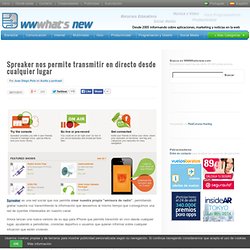 Spreaker es una red social que nos permite crear nuestra propia "emisora de radio", permitiendo grabar nuestra voz transmitiendo la información que deseemos al mismo tiempo que conseguimos una red de oyentes interesados en nuestro canal. Ahora lanzan una nueva versión de su app para iPhone que permite transmitir en vivo desde cualquier lugar, ayudando a periodistas, cronistas deportivo o usuarios que quieran informar sobre cualquier situación que estén viviendo. [...] una completa aplicación para el periodismo ciudadano, que permite a cualquier persona compartir contenidos de audio y difundirlos a través de las redes sociales, con la posibilidad de que te escuchen directamente desde tu muro en Facebook (gracias a Facebook Connect), haciendo llegar su voz a cualquier rincón del mundo.
RadiumOne - Results Powered by Connections