E-rramientas
Quix, un bookmarlet esencial.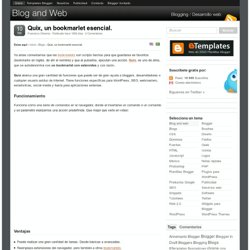 Ya antes comentamos que los bookmarlets son scripts hechos para que guardarse en favoritos ( en inglés, de ahí el nombre) y que al pulsarlos, ejecutan una acción. , es uno de ellos, que se autodenomina con y con razón abarca una gran cantidad de funciones que puede ser de gran ayuda a bloggers, desarrolladores o cualquier usuario asiduo de internet. Tiene funciones especificas para WordPress, SEO, webmasters, estadísticas, social media y hasta para aplicaciones externas. Funcionamiento Funciona como una en el navegador, donde al insertarse un comando o un comando y un parámetro realizamos una acción predefinida.
Yumpu – Transforma tus archivos PDF en revistas online
Si tenéis un catálogo en PDF, o una revista con vuestros últimos trabajos, o una novela que queráis divulgar gratuitamente en Internet, Yumpu.com os ofrece un servicio bastante interesante que permite obtener una revista online a partir del PDF que le informéis. Solo tenemos que subir el archivo e informar los datos de nuestro registro, obteniendo una dirección url donde cualquier persona podrá visitar la revista y pasar las páginas sin preocuparse del formato original del documento. Prometen preocuparse con la buena posición del archivo en los buscadores de Internet y mostrar estadísticas de acceso, así como ofrecer herramientas para que podamos divulgar el documento en ls redes sociales y obtener la opinión de nuestra comunidad. Es posible también navegar por el contenido publicado por otras personas, transformándose así en un kiosco digital gratuito con contenido de lo más variado.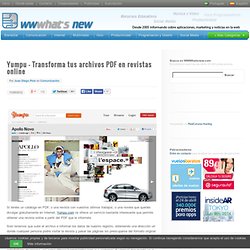 Si queréis poner enlaces, botones de "me gusta", popups, widgets y otros elementos interactivos dentro de vuestro vídeo, echad un vistazo en clickberry.com/cic. Se trata de una aplicación creada con Adobe Air, para Windows y Mac, que permite añadir objetos de varios tipos que pueden activarse y desactivarse durante la visualización del vídeo. Es posible, así, mostrar un enlace en un momento determinado, un menú visible constantemente o un botón al pasar el ratón sobre el logo, componentes que pueden editarse fácilmente al trabajar cada uno en una capa independiente dentro del programa. El editor es gratuito, aunque existe una versión profesional con la que pueden realizarse muchas más acciones. En el mismo sitio web también podemos encontrar un editor para vídeos de Facebook, existiendo una aplicación para iPad para poder realizar edición en el material guardado en nuestra cuenta. Link: clickberry.com | Vía addictivetips.com
clickberry interactivity creator, para añadir elementos interactivos en nuestros vídeos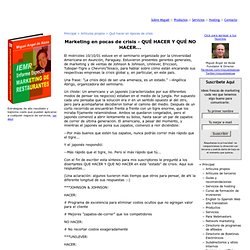 Marketing en pocas de crisis-Marketineros.com
Marketing en pocas de crisis - QUÉ HACER Y QUÉ NO HACER... El miércoles 10/10/01 estuve en el seminario organizado por la Universidad Americana en Asunción, Paraguay. Estuvieron presentes gerentes generales, de marketing y de ventas de Johnson & Johnson, Unilever, Ericcson, Tubopar-Tigre y Chevron/Texaco, para hablar sobre cómo están encarando sus respectivas empresas la crisis global y, en particular, en este país. Una frase: "La crisis dejó de ser una amenaza, es un estado." --Angélica Ábrigo, organizadora del seminario. Un chiste: Un americano y un japonés (caracterizados por sus diferentes modos de pensar los negocios) estaban en el medio de la jungla.
Herramientas de presentación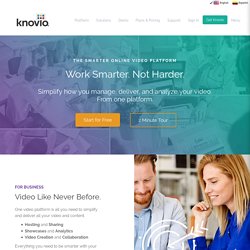 Knovio is a trademark of KnowledgeVision Systems, Inc. All other trademarks and copyrights are property of their respective owners. Whether for business, education or individual use, Knovio adds your personality and improves the effectiveness of any presentation. Create: bring "flat" PowerPoint® slides to life with your webcam, microphone Edit: make changes, without the need for video editing software or skills
Here are 10 top of the line programs that will help you take your PowerPoint presentation global. If you haven't used any of these to create some great video, give them a shot! 1.
Top 10 Presentation Softwares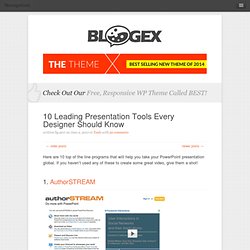 Continuing our series on iPad apps for work, today we'll look at presentation tools. Presentations seem like the killer use case for business travelers that need to give presentations but don't need a full-powered laptop. Not every iPad app is capable of outputting to a projector, so even if you want to present just Web pages, you're probably going to need to download an app. Let's take a look at what's available. Keynote Many of you won't want to look much further than Keynote, especially if you already use it on your Mac.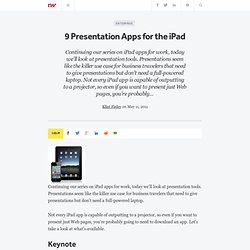 Herramientas de presentación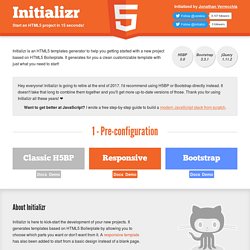 About Initializr Initializr is here to kick-start the development of your new projects. It generates templates based on HTML5 Boilerplate by allowing you to choose which parts you want or don't want from it. A responsive template has also been added to start from a basic design instead of a blank page. International guides
Spreaker nos permite transmitir en directo desde cualquier lugar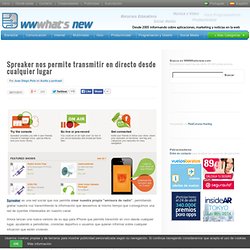 Spreaker es una red social que nos permite crear nuestra propia "emisora de radio", permitiendo grabar nuestra voz transmitiendo la información que deseemos al mismo tiempo que conseguimos una red de oyentes interesados en nuestro canal. Ahora lanzan una nueva versión de su app para iPhone que permite transmitir en vivo desde cualquier lugar, ayudando a periodistas, cronistas deportivo o usuarios que quieran informar sobre cualquier situación que estén viviendo. [...] una completa aplicación para el periodismo ciudadano, que permite a cualquier persona compartir contenidos de audio y difundirlos a través de las redes sociales, con la posibilidad de que te escuchen directamente desde tu muro en Facebook (gracias a Facebook Connect), haciendo llegar su voz a cualquier rincón del mundo.
"I love that everything is inline! The enhanced PDF allows me to use the more easily-readable and more organized PDF format while retaining (and even improving) the functionality of an online-accessed, full-text article with hyperlinked references and supplements" Jordan Reuter Microbiology and Cell Science student University of Florida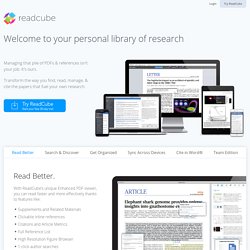 RadiumOne - Results Powered by Connections
The RadiumOne Enterprise Platform is a SaaS (Software-as-a-Service) that offers advertisers the technology and service to run programmatic buying initiatives across every digital channel. The platform delivers the transparency, control, performance and insights marketers, publishers and rights holders need. No arbitrage, no heavy fee loads, just effective, efficient and state-of-the art solutions. We offer: Self-serve| Managed| Publishers & Rights Holders RadiumOne's Enterprise Platform options:
lawrencedol reviewed FreeFileSync: Thumbs up FFS is highly capable and very fast. More importantly, it's very reliable: I synchronize about 250K files daily, with typically a few thousand changed and about a 500 MB in size and it has yet to mess up. I used to use MS's SyncToy, but that name actually characterizes it all: a "toy". SyncToy would frequently get confused and want to move things in the wrong direction or show conflicts which weren't the case (esp. with MS network share drives).