Lifestyle
How Hangovers Work". ­The only fool-proof way to avoid a hangover, of course, is not to drink alcohol.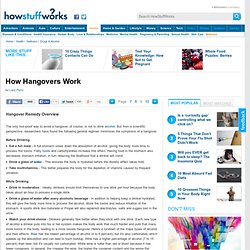 But from a scientific perspective, researchers have found the following general regimen minimizes the symptoms of a hangover. Before Drinking Eat a full meal - A full stomach slows down the absorption of alcohol, giving the body more time to process the toxins. Fatty foods and carbohydrates increase this effect. Having food in the stomach also decreases stomach irritation, in turn reducing the likelihood that a drinker will vomit.Drink a glass of water - This ensures the body is hydrated before the diuretic effect takes hold.Take multivitamins - This better prepares the body for the depletion of vitamins caused by frequent urination.
Things My Father didn't Teach Me, How to tie a Tie) Symbolism of Color: Using Color for Meaning. The world's best booze (and where to drink it) Drinking the local beverage is a sure way to warm the hearts of the locals.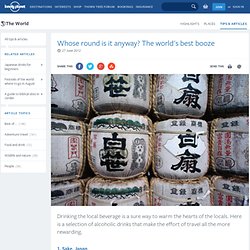 Here is a selection of alcoholic drinks that make the effort of travel all the more rewarding. 1. Sake, Japan Pin this image Image by katclay.
---