Engineering/Design/Arquitecture/Art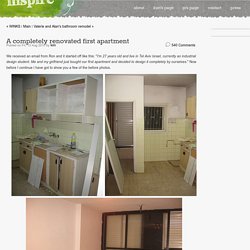 what a makeover! this made me feel 'myownapartamentsick' even more than ever :)bulb-lamp is great, i also made something like that, but there were less bulbs so the effect wasn't that stunning. love the shower, look really great, also the brick wall and, what surprised me, that green tone in the bedroom. you had great ideas and you fortunately put them into effect. the one thing i dislike is a study room. i hate that desk and chair, they just so boring actually. but i adore the red wall and those cat-things, sorry, i have no idea how to call it. ;) great job!
A completely renovated first apartment
Outdoor style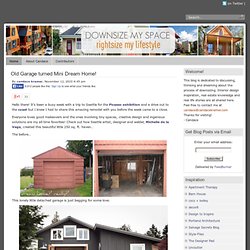 Hello there! It's been a busy week with a trip to Seattle for the Picasso exhibition and a drive out to the coast but I knew I had to share this amazing remodel with you before the week came to a close. Everyone loves good makeovers and the ones involving tiny spaces, creative design and ingenious solutions are my all time favorites!
Old Garage turned Mini Dream Home! |
Simple Ideas, That Are Borderline Genius 2
201011191019.jpg (JPEG Image, 442x700 pixels) - Scaled (87%)
Genius Part 3 [30 Pics]
Less is the New More: Making the Most of Small Spaces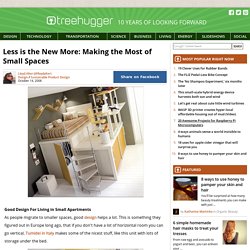 Good Design For Living in Small ApartmentsAs people migrate to smaller spaces, good design helps a lot. This is something they figured out in Europe long ago, that if you don't have a lot of horizontal room you can go vertical. Tumidei in Italy makes some of the nicest stuff, like this unit with lots of storage under the bed. This unit just raises the floor high enough for beds to slide under. This one looks a bit clinical, but has two single beds plus a pull-out double bed in between. When you read in the New York Times that professional couples with children are moving into small one-bedroom apartments in Manhattan and sleeping in closets, perhaps this stuff could be useful.
34 Cleverly Designed Inventions
Online Een online klant wil snel en goed geïnformeerd worden en de juiste site draagt daar absoluut aan bij. Hoe effectief is jouw website en hoe wordt deze door bezoekers ervaren? En wat levert je site uiteindelijk nu echt op? Wij helpen onze klanten bij het beantwoorden van deze vraagstukken.
Conrad Maldives Rangali Island's unique underwater suite (NOT photoshop)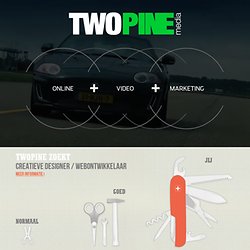 Do you prefer plush padding a minimalist pillow, a decked-out design or toned-down interior? From dazzling abstract designs to humorously offbeat sleeping spaces here are seven brilliant bedroom designs to inspire your imagination. Who knows, with a few decorative adjusts you might be able to remodel your own bedrooms to similar effect. If you love soft illumination and hate to sacrifice privacy, this bedroom interior has a brilliant combination of strategies from uplighting around the bed itself to wall panels that block direct views and sunlight but let light in around them.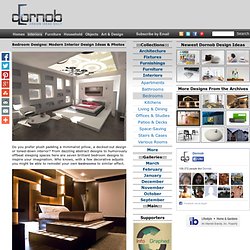 Bedroom Designs: Modern Interior Design Ideas & Photos
Would You Live in a Shipping Container?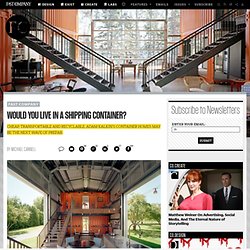 Adam Kalkin isn't the only architect to make homes out of shipping containers. A handful of architects, including Jennifer Siegal and Lot-Ek, began using them ten years ago as a gritty reaction against the tidy white surfaces of modernism. But nobody has employed shipping containers more inventively than Kalkin, a New Jersey architect and artist who has used them to design luxurious homes, museum additions, and refugee housing.
mental_floss Blog » Gifts for the Geek Home
A home should be an expression of who you are. Sure, when you're young and broke, your room or apartment might be an expression of who your parents or the people who donate to Goodwill are, but gradually you collect items that express your personality, whether you receive them as gifts or purchase them yourself. If you are a technologically oriented geek, there are plenty of manufacturers and vendors catering to your tastes in home decor. Interactive LED Dining Table Windell Oksay of Evil Mad Scientist Laboratories built a dining room table with 448 LEDs inside.
...from Critique Club... Hi Rackat...ain't I lucky..they assigned your photo to me..ha FIRST IMPRESSION: Horrible shot...what were you thinking????
A Splash of Color by Rackat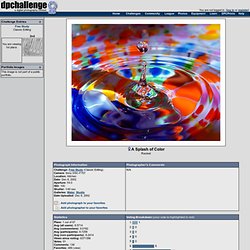 sg_blackpool_b.jpg (JPEG Image, 800x533 pixels)
Amazing Facts: Awesome Things (39 pics)