Web exclusives
Top 10 Lists - Listverse. Book Igloo. Home by Miler Lagos. International TV Explorer [Beta] - Global Internet TV Portals & Online Video Players. The International TV Explorer is a collaborative project, initiated by the International Television Expert Group.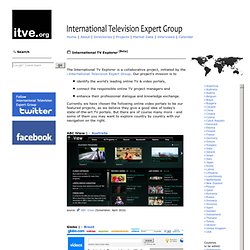 Our project's mission is to identify the world's leading online TV & video portals, connect the responsible online TV project managers and enhance their professional dialogue and knowledge exchange. Currently we have chosen the following online video portals to be our featured projects, as we believe they give a good idea of today's state-of-the-art TV portals. Episode 30: 1,008 Hours | Digital Broadcasting Group. An Original Web Series.
Original web series, irreverent videos and exciting short films from Hungry Man TV. Craigslist TV. Originals Videos - Yahoo! Screen. Web Series Channel - The Official Web Series Guide. Blip - discover the best in original web series. Funny or Die - Web Series. Online Video Magazine. 2010 Nominees - The Streamy Awards. Overall Series Best Comedy Web Series Streamy Award Winner Between Two Ferns with Zach Galifianakis NomineesBetween Two Ferns with Zach GalifianakisEasy to Assemble The GuildThe Legend of NeilWainy Days.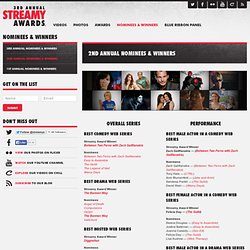 Home.
Polska
---