Desserts
Recipe} Red Velvet Cookie with White Chocolate Chunks. Frozen Strawberry Squares Recipe. Famous Key Lime Pie Recipe. With summer right around the corner, it's time for a refreshing key lime pie to take the edge off the summer heat and enjoy a cool treat.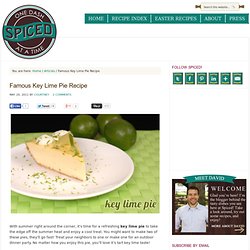 You might want to make two of these pies, they'll go fast! Treat your neighbors to one or make one for an outdoor dinner party. No matter how you enjoy this pie, you'll love it's tart key lime taste! FOR THE CRUST 1 cup + 2 1/2 tbsp graham cracker crumbs 5 tbsp unsalted butter, melted 1/3 cup sugar FOR THE FILLING 3 egg yolks 1 1/2 tsp grated zest of 2 key limes 1 14-ounce can sweetened condensed milk 2/3 cup freshly squeezed key lime juice. Delicious Meliscious - a cooking blog by Melissa: Cheesecake Stuffed Strawberries. Not being a fan of chocolate covered strawberries, I was happy to find these CHEESECAKE stuffed strawberries on The Novice Chef.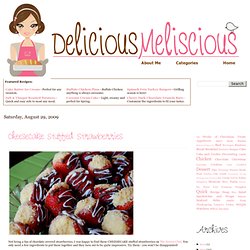 You only need a few ingredients to put these together and they turn out to be quite impressive. Try them - you won't be disappointed!
---