@
A command-line interface ( CLI ) is a means of interaction with a computer program where the user (or client ) issues commands to the program in the form of successive lines of text (command lines). A command-line interface is one type of text-based user interface . The CLI was the primary means of human interaction with most popular operating systems in the 1970's and 1980's, including MS-DOS , CP/M , Unix , and Apple DOS . The interface is usually implemented with a command line shell , which is a program that accepts commands as text input and converts commands to appropriate operating system functions. Command-line interfaces to computer operating systems are less widely used by casual computer users, who favor graphical user interfaces . Command-line interfaces are often preferred by more advanced computer users, as they often provide a more concise and powerful means to control a program or operating system.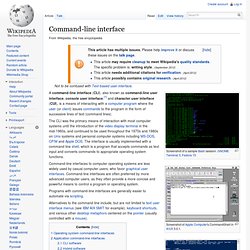 Command-line interface
Web
Information silo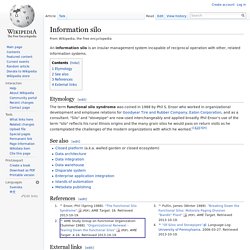 An information silo is a management system incapable of reciprocal operation with other, related information systems. For example, a bank's management system is considered a silo if it cannot exchange information with other related systems within its own organization, or with the management systems of its customers, vendors, or business partners. "Information silo" is a pejorative expression that is useful for describing the absence of operational reciprocity. In Information Technology , the absence of operational reciprocity is between disparate systems also commonly referred to as disparate data systems. Derived variants are "silo thinking", "silo vision", and "silo mentality". The expression is typically applied to management systems where the focus is inward and information communication is vertical.