Rbac
Access to knowledge movement
The Access to Knowledge ( A2K ) movement is a loose collection of civil society groups, governments , and individuals converging on the idea that access to knowledge should be linked to fundamental principles of justice , freedom , and economic development . [ edit ] Use by campaign groups Many different groups refer to the A2K movement. Consumers International is particularly prominent, and defines the movement as: the umbrella term for a movement that aims to create more equitable public access to the products of human culture and learning. The ultimate objective of the movement is to create a world in which educational and cultural works are accessible to all, and in which consumers and creators alike participate in a vibrant ecosystem of innovation and creativity.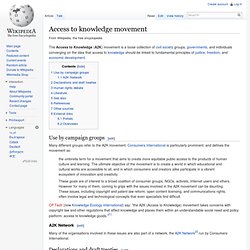 Aide -ITIM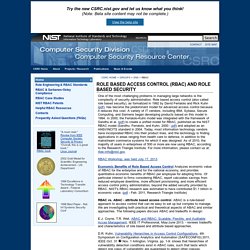 Role Based Access Control and Role Based Security
One of the most challenging problems in managing large networks is the complexity of security administration. Role based access control (also called role based security), as formalized in 1992 by David Ferraiolo and Rick Kuhn ( pdf ), has become the predominant model for advanced access control because it reduces this cost. A variety of IT vendors, including IBM, Sybase, Secure Computing, and Siemens began developing products based on this model in 1994. In 2000, the Ferraiolo-Kuhn model was integrated with the framework of Sandhu et al. ( pdf ) to create a unified model for RBAC, published as the NIST RBAC model (Sandhu, Ferraiolo, and Kuhn, 2000 - pdf ) and adopted as an ANSI/INCITS standard in 2004. Today, most information technology vendors have incorporated RBAC into their product lines, and the technology is finding applications in areas ranging from health care to defense, in addition to the mainstream commerce systems for which it was designed.
Vous trouverez une méthode possible dans le code source ci-dessous. La procédure KillApp() ferme le programme dont l'identifiant est passé en paramètre. Vous pouvez utiliser la valeur renvoyée par la fonction Shell(). La seule ligne contenue dans la procédure KillApp() a pour effet d'énumérer toutes les fenêtres ouvertes, et d'appeler pour chacune d'entre elles la fonction CloseWindow().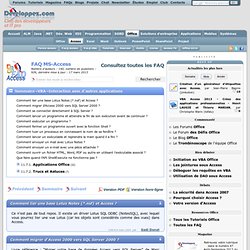 FAQ MS-Access - Club d'entraide des développeurs francophones