Natori
The vessel had appeared to be the last fully intact line of defense against large-scale releases of radioactive materials from that reactor, but it was not clear how serious the possible breach might be. The announcement came after Japanese broadcasters showed live footage of thick plumes of steam rising above the plant. Yukio Edano, the chief cabinet secretary, said the government believed the steam was coming from the No. 3 reactor, where an explosion on Monday blew out part of the building surrounding the containment vessel. The reactor has three layers of protection: that building; the containment vessel, and the metal cladding around fuel rods, which are inside the reactor.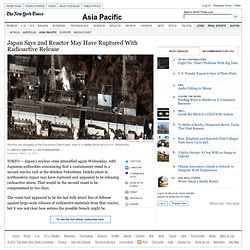 Japan Faces Potential Nuclear Disaster as Radiation Levels Rise
Satellite Photos - Japan Before and After Tsunami - Interactive Feature
French News Web Site Shakes Up Sarkozy Camp
Has Twitter Really Reached a Tipping Point?