Picture 1
Project 77 by DECHAMBO - Martin Deschambault. ZergNet - Discover Interesting Articles. VOKA - Marilyn Monroe - Spontaneous Realism. HD wallpaper - Space - meeting, spaceship, star, space - 1920x1200. Mysterious & Massive World Hidden Underground: Paradise & Fairytale Caves. Phong Nha-Ke Bang National Park contains the oldest major karst area in Asia.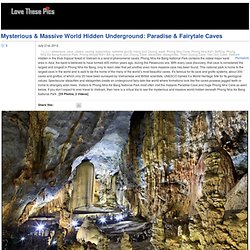 Protecting those caves is the reason for the park and also why it was named a UNESCO World Heritage Site. This cave is called Thien Duong (Động Thiên Đường) and is over 19 miles (31 km) long. The British cave explorers were so impressed by the beauty of the rock formation inside the cave, they dubbed this place as "Paradise Cave." Protraits - Green. Black and White Photography, B&W Photography, BW Photography | BWVision.com.
Colony 77 by *TitusLunter on deviantART. Uniiverse - Building the Sharing Economy. Fruit Crate Labels - Vintagraph Fine-Art Wall Prints and Posters. Vancouver Gigapixel Project » Gigapixel Panorama Photography. Introducing the Knowledge Graph. DEISIGN |1 Hour Droid Sketch Timelapse. Free-scenery-wallpaper-1280x800-1004082.jpg (JPEG Image, 1280×800 pixels) - Scaled (85. One big photo » a picture is worth a thousand words. Travel Photography | earth-photography.com. Other Photography Pages - Non Weekly Theme. Web Photo Albums at pbase. The Recent Uploads page lets you quickly find new images on PBase.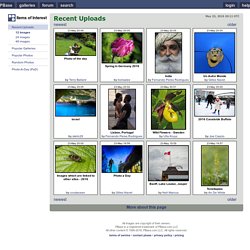 As people upload new public images to galleries, those galleries are added to the Recent Uploads list. A specific gallery may only be moved to the top of the list a few times each day. This page is constantly updating and has not necessarily been screened. Tutoriel Embellir un visage Tutoriel V2. Embellir un visage Tutoriel V2 Pour commencer importez votre images sous Photoshop personnellement j'utilise la version cs4 mais c'est pas grave le cs3 feras aussi l'affaire Prenez l'outil correcteur (J) et masqué les points noir et les autres truc dans tout le core si vous ne savez pas utilisez cet outil voilà un tuto pour vous expliquer le truc.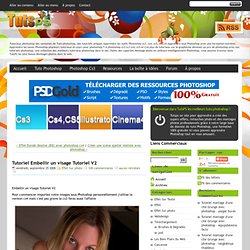 Oddee.com. Dry Valleys (Antartica) Antarctica's Dry Valleys, with their barren gravel-strewn floors, are said to be the most similar place on Earth to Mars.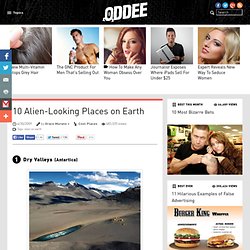 Its fascinating landscape, located within Victoria Land west of McMurdo Sound, get almost no snowfall, and except for a few steep rocks they are the only continental part of Antarctica devoid of ice. The terrain looks like something not of this Earth; the valley's floor occasionally contains a perennially frozen lake with ice several meters thick. Best photos on the web. Zena Holloway | Underwater Photographer & Director. Shannon Conway Underwater Photography Western Australia. Photothèque Plisson, banque d'images maritime, téléchargement ph.
Galeria. La boite verte. Stylist- Evolution. Google Image Ripper -safely... National Geographic. Walking on air. Moments in China by Ryan Emond. Dominic Boudreault - home. Création d'identités visuelles - Numéro dix - Mandchou. Wiki sky. Models,et photographes. Luxuos - ThemeForest. MyStudios.com. Sideshow: Funktastic Portfolio. Sideshow is a funktastic portfolio theme for the artsy fartsy with a built-in Tumblr style blogging system.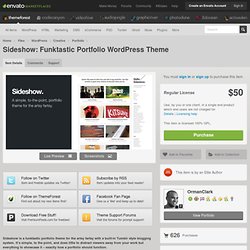 It's simple, to the point, and does little to distract viewers away from your work but everything to showcase it – exactly how a portfolio should function. Sideshow's clean lines, minimal design and two colour schemes are eye-candy for lovers of "simple" yet a great blank canvas for the modifying type. Support for post formats means you can jazz up your blog with your own self-hosted video, audio, images, galleries, asides, links, quotes and of course good old standard posts. The Masjid Doorway | Geometric Zine. Popular Photos. Wild Scenics Pictures. BIP BIP. DERNIERS ARTICLES :Bonne Année 2010Ous/SIZEUn petit mot pour vous//818Oment en rupture de temps,merci a vOus de venir me vOir je reviendrais quand je pOurrais.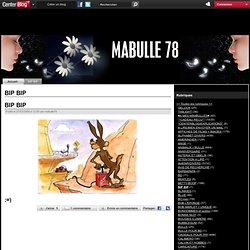 GrOs bisOus a tOut le mOnde ;)/SIZEJE BULLE/817"Je fonce droit dans mon lit. Il dois rester quelques rêves d'enfant cachés sous l'oreiller, je tenterais de ne pas les écraser avec ma tête lourde de soucis d'adulte. "/CCITATION/816"L'ennemi le plus dangereux est celui que personne ne craint! "/COLORCITATION/815«C'est très joli, la vie. Mais cela a un inconvénient, c'est qu'il faut la vivre.» Diigo - Web Highlighter and Sticky Notes, Online Bookmarking and Annotation, Personal Learning Network. Flash Gordon Returns To Comics With 'Zeitgeist' » MTV Geek. Classic sci-fi character Flash Gordon returns to comic books with the Dynamite Entertainment title Flash Gordon - Zeitgeist.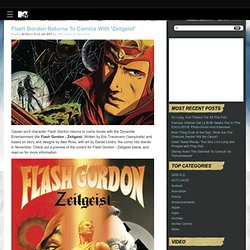 Written by Eric Trautmann (Vampirella) and based on story and designs by Alex Ross, with art by Daniel Lindro, the comic hits stands in November. Check out a preview of the covers for Flash Gordon - Zeitgeist below, and read on for more information: Official Press Release: Digital Art Gallery - Moltee. Global Maps. Lamborghinimadura. Juxtapoz Magazine. Art Project, powered by Google. Realtime Face Tracking and Substitution by Arturo Castro.
Castorama.fr. Prefab77 in Dublin. Wooster(Noun) A street in the Soho section of New York City.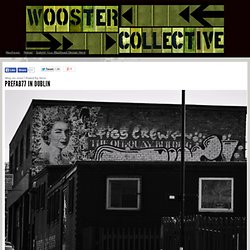 Collective(Noun) Publiz – Inspiration graphique et publicité créative. G i l l e s v i d a l - p h o t o g r a p h e. Yoann Lemoine. Showcasing Amazing Pictures By Photographer Royce Bair of the Milk Way. The Milky Way over Jackson Lake and Tetons at Grand Teton National Park on August 23, 2011 in Wyoming Delicate Arch, and Milky Way stars at Arches National Park on October 19, 2011 in Utah A photograph of a meteor streaking between the Big Dipper and Polaris on January 4, 2012 in Salt Lake City, Utah Double Arch and Milky Way stars at Arches National Park on October 19, 2011 in Utah Milky Way stars over Grand Teton Mountain Range at Grand Teton National Park on August 23, 2011 in Wyoming.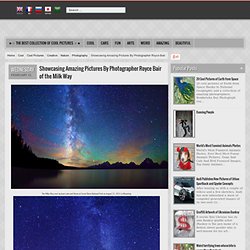 Beauty Photography by Jan Scholz. Galleries / c h r o m a s i a. Refresh Earth Wallpapers - All Sizes by $erickthedesigner on deviantART.
---