Education
Relating Development To Go Aspirations of a Software Developer
This is a really niche topic of discussion. Those who have both practiced software development and played/studied Go may appreciate the relation. If you've never played go and are not a software developer… well I can't really help you there. However, today I found the similarities astounding. There are a lot of terms from Go that are used to describe the game or situations in the game. Things like "lightness" and "flexibility" where your stones are spread out to cover a larger area but with gaps in the middle.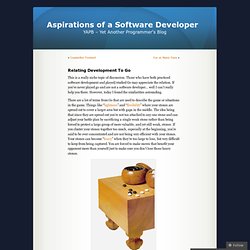 Comparison Between Chess And Go
Comparison Between Chess And Go © 2008 Milton N. Bradley Although manifestly quite different, Chess and Go are unquestionably the two finest strategic board games in all of human history. Some prefer one, some the other, and there are a small fortunate number who enjoy and excel at both.