Oneday
10 WAYS TO TURN A PAD INTO A JUNGALOW. | Justina Blakeney Est. 1979
Small Space Flower Garden {DIY Pallet Project
Home
Home Decor Ideas / Whhhaattt?! Why isn't this mine??!
Convenience and efficiency are king when it comes to product design. What could be more efficient than a natural ecosystem? That's the insight behind a "living kitchen" designed by the brilliant young design studio Studio Gorm.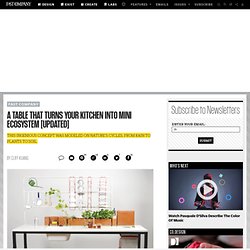 Coolhunting :) / Bohemian life :)
Growing succulents on a rooftop is a good way to create a green garden in your own "backyard." Building a green garden is a big project, but if you have the right tools and invest a little time in the project, the experience can be very rewarding. You can use many different designs to construct a green roof, and they all provide natural insulation.
Growing Succulents on Your Roof