Jailbreak and dev
Welcome to the iFans Forums Create Your Account or Ask a Question Answers in 5 minutes - no registration required! Tip: Click here to see all forum posts aboutiOS 7 jailbreak tweaks on Cydia. C++ Compiler for the iPod touch
C++ Compiler for the iPod touch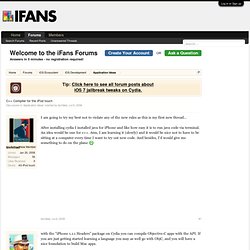 How To: Set up GCC on iOS 4 - TooTallNate.net
Static Version Even though I have the source for my iOS port of node up on GitHub, people are apparently still having trouble compiling it on their own since they can't seem to even get gcc up and running properly. I've been meaning to put together a walkthrough of how to set gcc up from a fresh jailbreak, but have been waiting for the iPad 2 jailbreak so I base the walkthrough off of that.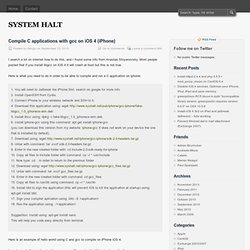 Posted by Sergiu on September 12, 2010
Compile C applications with gcc on iOS 4 (iPhone) « IT News, Tutorials, Solutions – SYSTEM HALT
apps - Is there a C compiler for iPad
Advertisements Apple has never been too keen on BitTorrent clients, blocking every single one from ever reaching the App Store. But even if you don't want to jailbreak your phone, there's a way around this restriction, and best of all, it's totally free!
How To Download Torrents On iPhone, iPad Without Jailbreaking [Tutorial