Exemple de logiciels
User Guide - Ecava IntegraXor 3.2
Information in this document is subject to change without notice and does not represent a commitment on the part of Ecava Sdn Bhd. Ecava provides this document "as is", without warranty of any kind, either expressed or implied, including, but not limited to, the implied warranties of fitness or merchantability for a particular purpose. Ecava may make improvements and/or changes in this manual or in the product(s) and/or the program(s) described in this manual at any time.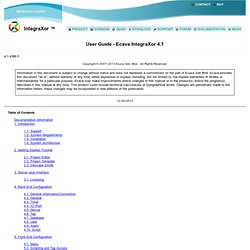 acquisition et stockage de données de supervision industrielle S
Logiciel Scada
Archivage électronique SAP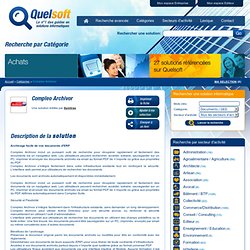 Compleo Archivor : Archivage facile de vos documents d'ERP
Archivage facile de vos documents d'ERP Compleo Archivor inclut un puissant outil de recherche pour récupérer rapidement et facilement des documents via un navigateur web. Les utilisateurs peuvent rechercher, accéder, extraire, sauvegarder sur un PC, imprimer et envoyer les documents archivés via email au format PDF de n'importe où grâce aux propriétés du PDF. Compleo Archivor s'intègre facilement dans votre infrastructure existante tout en renforçant la sécurité.