Edtech
Twitter, without a doubt, has become the social network for educators to take their professional development into their own hands. Twitter allows teachers to connect with other educators from around the world, join discussions related to their interests and have a steady stream of resources (to help them teach and learn) available to them whenever, whereever and however. Creating a network on Twitter has catapulted educators to be part of a connected world where learning happens anytime, help is only a tweet away, collaboration partners meet and communicate, conversations that directly or indirectly impact their physical lives take place 24/7.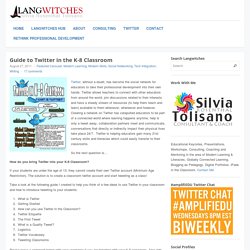 New version of MP3 Skype recorder 4.0 Release Candidate is ready. New version doesn't require Skype API which will be stopped by Skype(Microsoft) next month. It has new "Metro" style look and in fact is completely new recorder.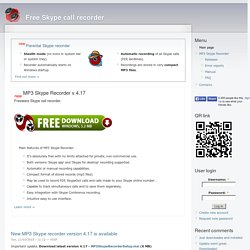 Conservative blogger launches site to reform 'deplorable' public education | Higher Ed | eSchoolNews.com
Andrew Breitbart says BigEducation.com will expose educator, union corruption in K-12 and higher education By Dennis Carter, Assistant Editor Read more by Denny Carter Breitbart was accused of deceptively editing a lecture video last spring.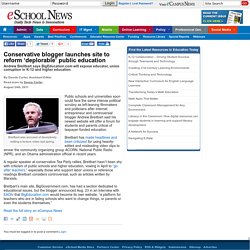 It's a choice that no one should have to make: ditch school so that you can make a little money for your family, or go to school in the hopes that one day you will be able to climb out of poverty (but in the meantime, live without food). MPowering wants to eliminate those choices and make education more immediately gratifying, with a little help from mobile technology. The organization, founded by veterans of Salesforce.com and Apple, is partnering with nonprofits in the developing world to provide food, medicine, and more to people in places like Orissa, India (the poorest state in the country, but one that has high cell phone penetration) who perform positive actions like going to school or taking advantage of prenatal care. Here's how it works: mPowering finds places where people are living on less than $2 per day, partners with local nonprofits, and develops mobile apps that help residents move out of poverty. Onsite programs offer incentives for "life-enhancing behavior."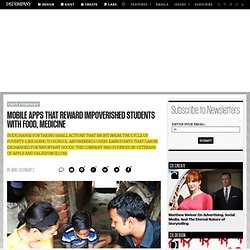 Mobile Apps That Reward Impoverished Students With Food, Medicine | Fast Company