Homemade
It's been awhile since our last bracelet DIY . I don't know about you, but our wrists have been begging for another colorful addition for months now. So after playing with some materials that were already on hand, we've created a tutorial for a braided bead bracelet, which is a not so distant cousin of the hex nut and wrap bracelet .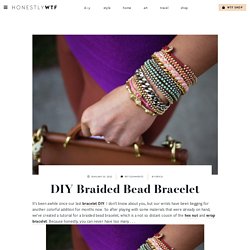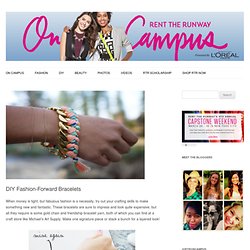 When money is tight, but fabulous fashion is a necessity, try out your crafting skills to make something new and fantastic. These bracelets are sure to impress and look quite expensive, but all they require is some gold chain and friendship bracelet yarn, both of which you can find at a craft store like Michael's Art Supply. Make one signature piece or stack a bunch for a layered look!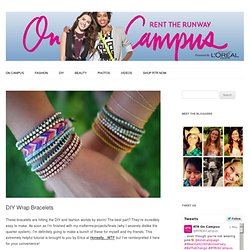 These bracelets are hitting the DIY and fashion worlds by storm! The best part? They're incredibly easy to make. As soon as I'm finished with my midterms/projects/finals (why I severely dislike the quarter system), I'm definitely going to make a bunch of these for myself and my friends. This extremely helpful tutorial is brought to you by Erica at Honestly…WTF but I've reinterpreted it here for your convenience! You will need:
DIY Wrap Bracelets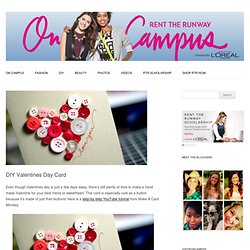 Even though Valentines day is just a few days away, there's still plenty of time to make a hand made Valentine for your best friend or sweetheart. This card is especially cute as a button because it's made of just that–buttons! Here is a step-by-step YouTube tutorial from Make A Card Monday. Happy Valentines Day! Lizzy is a Merchandise Product Development major at the Fashion Institute of Design and Merchandising L.A. She is highly influenced by J.
DIY Valentines Day Card
Another great idea from Erica at Honestly…WTF ! This simple tutorial has the most fabulous results, and I've reposted it here for your convenience. You will need: a pair of high heels 40-50 large and medium (10-15 mm) multi-shaped rhinestones 30-40 small (3-6 mm) round rhinestones
DIY Miu Miu Jeweled Heels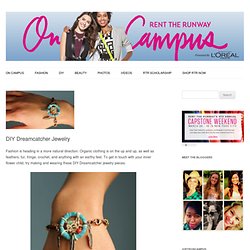 Fashion is heading in a more natural direction. Organic clothing is on the up and up, as well as feathers, fur, fringe, crochet, and anything with an earthy feel. To get in touch with your inner flower child, try making and wearing these DIY Dreamcatcher jewelry pieces.