Etymology
Welcome to White-Wolf.com. White Wolf Publishing has produced gaming universes for over 20 years including World of Darkness, Exalted, Trinity, and many more. White Wolf merged with CCP Games to focus on translating the World of Darkness IP into a massively multiplayer experience, and the North American office is fully dedicated to making this evolution a reality. In order to continue to support our existing RPG and LARP communities, we have entered into a number of partnerships with individuals and groups who can focus their full attention on the art forms White Wolf created and lived in. Digital Publishing and Print On Demand Both new and classic White Wolf products are available for digital download and Print On Demand through DriveThruRPG.com.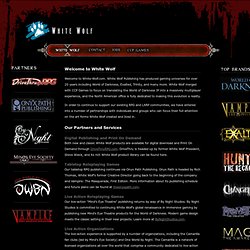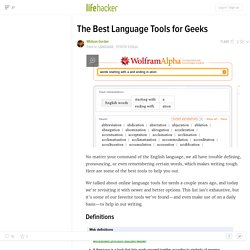 SExpand No matter your command of the English language, we all have trouble defining, pronouncing, or even remembering certain words, which makes writing tough. Here are some of the best tools to help you out.P We talked about online language tools for nerds a couple years ago, and today we're revisiting it with newer and better options. This list isn't exhaustive, but it's some of our favorite tools we've found—and even make use of on a daily basis—to help in our writing.P DefinitionsP
This is a map of the wheel-ruts of modern English. Etymologies are not definitions; they're explanations of what our words meant and how they sounded 600 or 2,000 years ago. The dates beside a word indicate the earliest year for which there is a surviving written record of that word (in English, unless otherwise indicated). This should be taken as approximate, especially before about 1700, since a word may have been used in conversation for hundreds of years before it turns up in a manuscript that has had the good fortune to survive the centuries. The basic sources of this work are Weekley's "An Etymological Dictionary of Modern English," Klein's "A Comprehensive Etymological Dictionary of the English Language," "Oxford English Dictionary" (second edition), "Barnhart Dictionary of Etymology," Holthausen's "Etymologisches Wörterbuch der Englischen Sprache," and Kipfer and Chapman's "Dictionary of American Slang." A full list of print sources used in this compilation can be found here.