Gnosis
Welcome to the Maine Gnosis Center
Samael Aun Weor- Gnosis
Gnosis | SamaelGnosis - Instituto Cultural Quetzalcoatl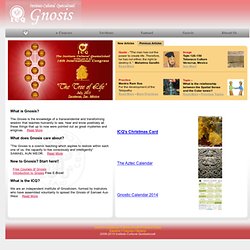 What is Gnosis? The Gnosis is the knowledge of a transcendental and transforming wisdom that teaches humanity to see, hear and know positively all these things that up to now were pointed out as great mysteries and enigmas. Read More What does Gnosis care about?
Vol. 5, No. 2, October 2001 Wake up! Gnosticism and Buddhism in The Matrix By Frances Flannery-Dailey, Hendrix College and Rachel Wagner, The University of Iowa Abstract The Wachowski brothers' 1999 hit release The Matrix draws on multiple religious traditions to establish its complex worldview.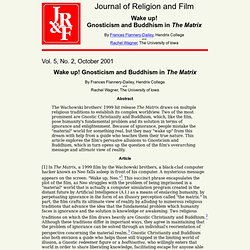 Journal of Religion & Film: Wake Up! Gnosticism and Buddhism in The Matrix by Frances Flannery-Daily and Rachel Wagner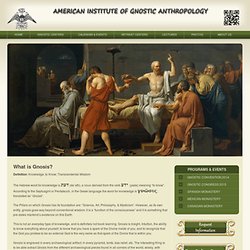 What is Gnosis? Definition: Knowledge; to Know; Transcendental Wisdom The Hebrew word for knowledge is דעת (da`ath), a noun derived from the verb ידע (yada) meaning "to know". According to the Septuagint or Pentateuch, in the Greek language the word for knowledge is γνῶσις, translated as "Gnosis". The Pillars on which Gnosis has its foundation are: "Science, Art, Philosophy, & Mysticism".
gnosisusa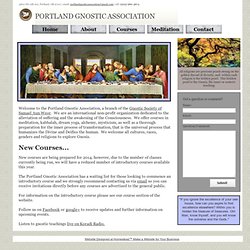 Welcome to the Portland Gnostic Association, a branch of the Gnostic Society of Samael Aun Weor. We are an international non-profit organization dedicated to the alleviation of suffering and the awakening of the Consciousness. We offer courses in meditation, kabbalah, dream yoga, alchemy, mysticism, as well as a thorough preparation for the inner process of transformation, that is the universal process that humanizes the Divine and Deifies the human.
Home
GNOSIS: TRADICIÓN Y REVELACIÓN
Seattle Gnostic Center
Welcome to website of the The Seattle Gnostic Center. This site presents introductory information on Universal Gnosticism, in which lie the teachings of all true religions. Within these teachings is given the direct path to the awakening of one's own consciousness, which is achieved through direct, personal experience of one's inner nature.
Internet Sacred Text Archive Home
Gnosis | SamaelGnosis - Instituto Cultural Quetzalcoatl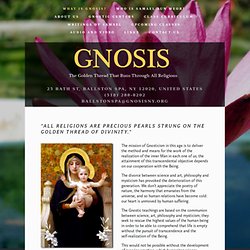 The mission of Gnosticism in this age is to deliver the method and means for the work of the realization of the inner Man in each one of us; the attainment of this transcendental objective depends on our cooperation with the Being. The divorce between science and art, philosophy and mysticism has provoked the deterioration of this generation. We don't appreciate the poetry of nature, the harmony that emanates from the universe, and so human relations have become cold: our heart is unmoved by human suffering. The Gnostic teachings are based on the communion between science, art, philosophy and mysticism; they seek to rescue the highest values of the human being in order to be able to comprehend that life is empty without the pursuit of transcendence and the self-realization of the Being. This would not be possible without the development of superior emotion, which humanizes science, sublimates art, elevates philosophy and crystallizes mysticism.
Northeast Association of Gnostic Anthropology - What is Gnosis