Mac Antivirus Reviews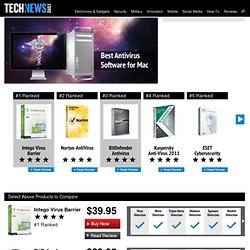 Do I Need Mac Antivirus Software? In a world of full of digital viruses, malware and paranoia, Mac computers have long enjoyed a bulletproof reputation.
10 Best Anti-Virus Programs for Macs | Apple Malware | MacDefender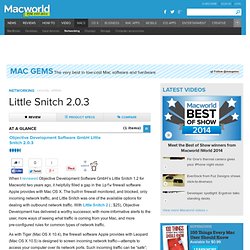 Little Snitch 2.0.3 Networking Utility Review
When I reviewed Objective Development Software GmbH's Little Snitch 1.2 for Macworld two years ago, it helpfully filled a gap in the ipfw firewall software Apple provides with Mac OS X.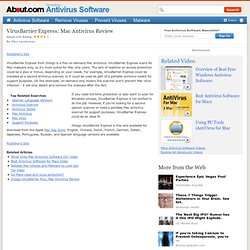 VirusBarrier Express: Mac Antivirus Review
VirusBarrier Express from Intego is a free on-demand Mac antivirus. VirusBarrier Express scans for Mac malware only, so it's most suited for Mac only users.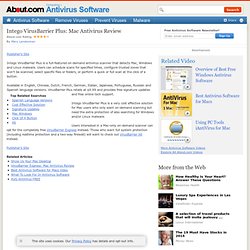 Intego VirusBarrier Plus: Mac Antivirus Review
Intego VirusBarrier Plus is a full-featured on-demand antivirus scanner that detects Mac, Windows and Linux malware. Users can schedule scans for specified times, configure trusted zones that won't be scanned, select specific files or folders, or perform a quick or full scan at the click of a button. Available in English, Chinese, Dutch, French, German, Italian, Japanese, Portuguese, Russian and Spanish language versions.
VirusBarrier Plus review - Mac software
VirusBarrier Plus review Macs have been blissfully unaffected by viruses and malware for many years, but the recent publicity surrounding the MacDefender Trojan suggests that it might be time to start taking things a bit more seriously. Apple has supplied its own update for OS X to block MacDefender, but if you want to take extra precautions then you might want to consider Intego's VirusBarrier Plus, which is now available from the Mac App Store. The original version of this program – called VirusBarrier X6 – is still sold through Intego's own website, and costs almost £50.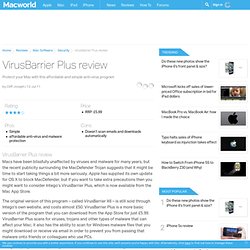 Review: VirusBarrier Plus | Tech tAUk
Intego VirusBarrier Plus review | from TechRadar's expert reviews of Anti malware software
There have been enough malware scares on the Mac lately.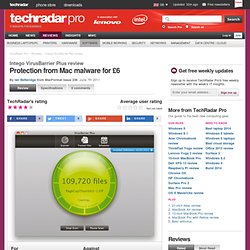 VirusBarrier for iPhone: Protect Your iPhone By Scanning for Malware
Mac Internet Security Software Review 2012 | Best Security Software for Mac | Mac Antivirus, Mac Anti-Spyware - TopTenREVIEWS
Intego Internet Security Barrier 2012 - TopTenREVIEWS
Mac users are no longer immune to malware.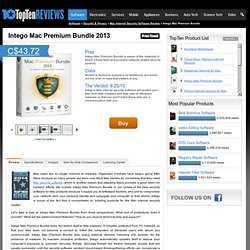 Intego VirusBarrier X6 for Mac - Free software downloads and software reviews
Intego VirusBarrier X6 - Reviews and free Intego VirusBarrier X6 downloads at CNET Download.com
CNET TechTracker will now automatically install software without requiring further action by you.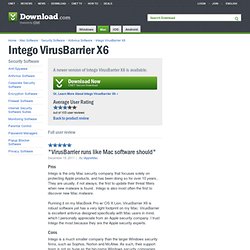 Review: Intego VirusBarrier X6, virus protection for Mac
A look at Intego Internet Security Barrier X6 for OS X | MacFixIt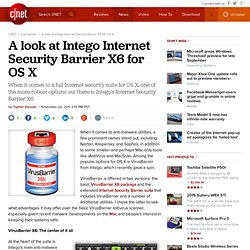 When it comes to anti-malware utilities, a few prominent names stand out, including Norton, Kaspersky, and Sophos, in addition to some smaller and perhaps Mac-only tools like iAntiVirus and MacScan.
The Intego Internet Security Barrier X6 package for Mac OS X is an annual subscription service that offers five different programs: Personal Antispam, VirusBarrier X6, Personal Backup, ContentBarrier, and FileGuard. It is compatible with OS X 10.5 and 10.6 and is available in English, French, German, Italian, Japanese, and Spanish.
Intego's Internet Security Barrier X6 Packs A Wallop | Quick Look Review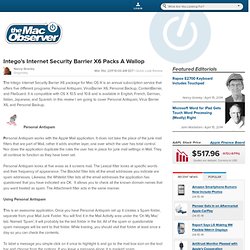 Mac Antivirus Software Review 2011 | Compare OS X Antivirus | Best Mac Security Antivirus - TopTenREVIEWS
Intego VirusBarrier 2011 - TopTenREVIEWS
The idea that Macs are immune to malware is incorrect. You need Mac security software such as Intego Mac Internet Security to defend against viruses, Trojans, spyware and worms.
Intego is the only Apple company focusing solely on protecting Macs and iOS devices from Internet security threats and malware. So it's no wonder VirusBarrier X6 has earned numerous awards for being the best Mac antivirus software, including the TopTenREViEWS Gold Award. by semperfi Nov 4
Norton by Symantec is one of the most trusted security software brands in the PC world, but it is not just for Windows. Norton AntiVirus for Mac protects Macs from malware, includes useful features and extends excellent help and support.
Norton AntiVirus for Mac 2012 - TopTenREVIEWS
BitDefender Antivirus for Mac 2012 - TopTenREVIEWS
Bitdefender Antivirus for Mac is Mac antivirus software that protects Mac OS X from malware. There are those who would have you believe that Mac antivirus software is useless.
It's not surprising that Intego VirusBarrier established and held the lead for Best Mac Antivirus.
Best Antivirus for Mac - Readers Choice Awards 2011
Since 1997, Intego has focused solely on protecting Apple Mac computers and iOS devices from malware and other Internet threats. They were the first Mac security company and currently the only one focusing on just protecting Macs; Intego is usually the first to discover new threats and update their malware definitions. So it's not entirely shocking that VirusBarrier X6 has earned the About.com Readers' Choice Award as the best antivirus software for Mac. by semperfi Nov 4
VirusBarrier X6: Mac Antivirus Review
The overwhelming favorite of Antivirus.About.com readers, Intego VirusBarrier X6 provides realtime signature-based and behavior-based scanning for Mac malware and on-demand scanning for Windows-based malware.