Early History
RUSH: The numbers of people showing up are not that big. I got a piece by Walter Shapiro in the New Republic. And he says one of the major points about this is that it isn't that big. The number of people involved in this thing are not that many. Now, wouldn't you know it.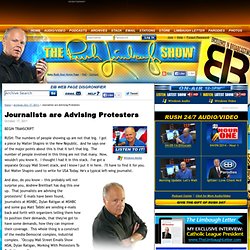 Journalists are Advising Protesters
On Sunday's Reliable Sources on CNN, host Howard Kurtz and guest Erik Wemple of the Washington Post both took exception with FNC's Bill O'Reilly for recently calling some of the "Occupy Wall Street" protesters "far-left loons" and "anarchists." Kurtz noted the contrast in how MSNBC and FNC have responded to the protests: Keith Olbermann at Current TV and also Ed Schultz at MSNBC playing up these protests, criticizing the coverage or lack thereof. A marked contrast to the way Fox News is treating them. Bill O'Reilly the other night saying that these are "far-left loons" and "anarchists."
WaPo's Wemple: 'Really Disgraceful' That O'Reilly Called Protesters 'Far-Left Loons' and 'Anarchists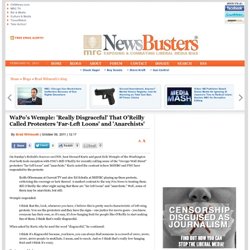 Coast Guard member spit on near Occupy Boston tents
Big Soros Money Linked to "Occupy Wall Street"
Occupy Wall Street and Soros' Fingerprints
Video Exposing How 'Occupy Wall Street' Was Organized From Day One by SEIU / ACORN Front – The Working Family Party, and How They All Tie to the Obama Administration, DNC, Democratic Socialists of America, Tides and George Soros
US Day of Rage Non-Violent Civil Disobedience Wall Street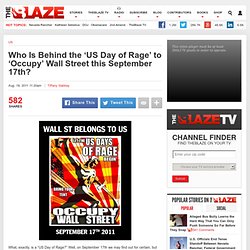 What, exactly, is a "US Day of Rage?"
Text smaller Text bigger Social media networks fomenting a nationwide "Day of Rage" protest are reporting that hundreds have gathered in New York City's financial district to protest "Wall Street's corporate plunder." According to a Bloomberg report, organizers had originally hoped as many as 20,000 would gather in the financial district and "occupy" it through tent cities and civil disobedience, if necessary, for months.
Protesters begin 'Day of Rage' against capitalism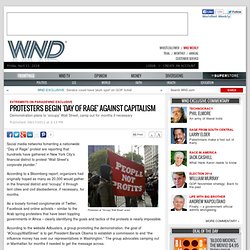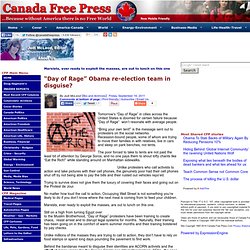 Marxists, ever ready to exploit the masses, are out to lunch on this one Tomorrow's "Day of Rage" in cities across the United States is doomed for certain failure because "Day of Rage" won't resonate with average people. "Bring your own tent!" is the message sent out to protesters on the social networks. Recession-bound people, some of whom are trying to move their families in with relatives, live in cars and sleep on park benches, not tents.
"Day of Rage" Obama re-election team in disguise?
#OccupyWallStreet/ Occupy Wall Street