Early History
This is a great catch by Noah Rothman. A tale of two Chuck Todds. Today, while engaging in political analysis on his MSNBC show "The Daily Rundown," Todd said New Jersey Governor Chris Christie is between a rock and hard place with the scandal surrounding the closing of the George Washington Bridge: "Neither answer is a good one," Todd said.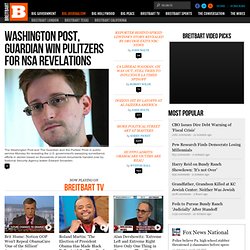 RUSH: The numbers of people showing up are not that big. I got a piece by Walter Shapiro in the New Republic. And he says one of the major points about this is that it isn't that big. The number of people involved in this thing are not that many. Now, wouldn't you know it.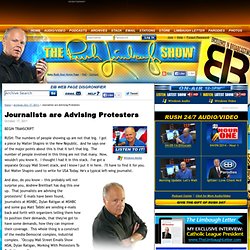 Journalists are Advising Protesters
On Sunday's Reliable Sources on CNN, host Howard Kurtz and guest Erik Wemple of the Washington Post both took exception with FNC's Bill O'Reilly for recently calling some of the "Occupy Wall Street" protesters "far-left loons" and "anarchists." Kurtz noted the contrast in how MSNBC and FNC have responded to the protests: Keith Olbermann at Current TV and also Ed Schultz at MSNBC playing up these protests, criticizing the coverage or lack thereof. A marked contrast to the way Fox News is treating them. Bill O'Reilly the other night saying that these are "far-left loons" and "anarchists."
WaPo's Wemple: 'Really Disgraceful' That O'Reilly Called Protesters 'Far-Left Loons' and 'Anarchists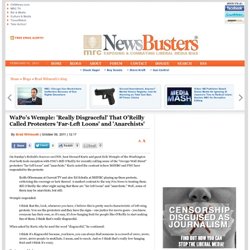 Big Soros Money Linked to "Occupy Wall Street"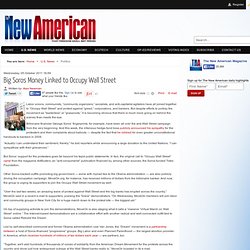 Labor unions, communists, "community organizers," socialists, and anti-capitalist agitators have all joined together to "Occupy Wall Street" and protest against "greed," corporations, and bankers. But despite efforts to portray the movement as "leaderless" or "grassroots," it is becoming obvious that there is much more going on behind the scenes than meets the eye.
Occupy Wall Street and Soros' Fingerprints
Video Exposing How 'Occupy Wall Street' Was Organized From Day One by SEIU / ACORN Front – The Working Family Party, and How They All Tie to the Obama Administration, DNC, Democratic Socialists of America, Tides and George Soros
US Day of Rage Non-Violent Civil Disobedience Wall Street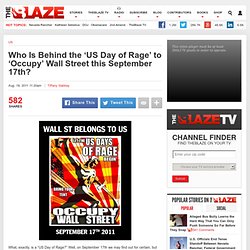 What, exactly, is a "US Day of Rage?"
Text smaller Text bigger Social media networks fomenting a nationwide "Day of Rage" protest are reporting that hundreds have gathered in New York City's financial district to protest "Wall Street's corporate plunder." According to a Bloomberg report, organizers had originally hoped as many as 20,000 would gather in the financial district and "occupy" it through tent cities and civil disobedience, if necessary, for months.
Protesters begin 'Day of Rage' against capitalism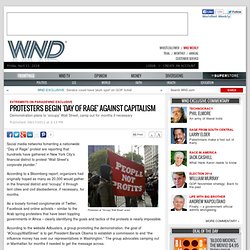 "Day of Rage" Obama re-election team in disguise?
A downtrodden Governor Chris Christie apologized to the people of New Jersey today in his first press conference since the revelation of emails proving his staff's involvement in creating traffic problems on the nation's most trafficked bridge as political retribution. The emails' authors have been fired, and Christie will visit Fort Lee, NJ today. by Frances Martel 1550 Now Playing On Breitbart TV Though Pope Francis has referred to same-sex marriage as "a move of the father of lies who wishes to confuse and deceive the children of God," a nun who is president of a Seattle-area Catholic high school has said that an openly-engaged lesbian drama coach is "welcome" to continue working at the school. by Dr. Susan Berry 10 Jan 2014, 12:26 AM PDT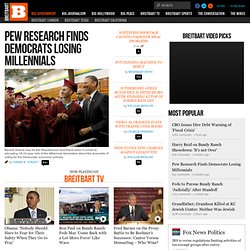 #OccupyWallStreet/ Occupy Wall Street