Early History
Journolist 2.0: Occupy Wall Street Emails Show MSM, Dylan Ratigan, Working With Protesters To Craft Message - Big Journalism. Journalists are Advising Protesters. RUSH: The numbers of people showing up are not that big.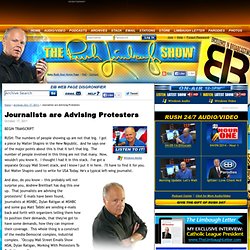 I got a piece by Walter Shapiro in the New Republic. And he says one of the major points about this is that it isn't that big. The number of people involved in this thing are not that many. Now, wouldn't you know it. WaPo's Wemple: 'Really Disgraceful' That O'Reilly Called Protesters 'Far-Left Loons' and 'Anarchists. On Sunday's Reliable Sources on CNN, host Howard Kurtz and guest Erik Wemple of the Washington Post both took exception with FNC's Bill O'Reilly for recently calling some of the "Occupy Wall Street" protesters "far-left loons" and "anarchists.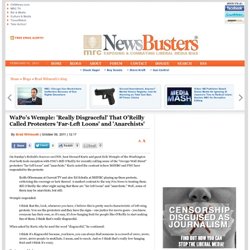 " Kurtz noted the contrast in how MSNBC and FNC have responded to the protests: Keith Olbermann at Current TV and also Ed Schultz at MSNBC playing up these protests, criticizing the coverage or lack thereof. A marked contrast to the way Fox News is treating them. Bill O'Reilly the other night saying that these are "far-left loons" and "anarchists.
" Big Soros Money Linked to "Occupy Wall Street" Labor unions, communists, "community organizers," socialists, and anti-capitalist agitators have all joined together to "Occupy Wall Street" and protest against "greed," corporations, and bankers.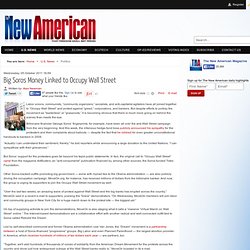 But despite efforts to portray the movement as "leaderless" or "grassroots," it is becoming obvious that there is much more going on behind the scenes than meets the eye. Billionaire financier George Soros' fingerprints, for example, have been all over the anti-Wall Street campaign from the very beginning. And this week, the infamous hedge-fund boss publicly announced his sympathy for the protesters and their complaints about bailouts — despite the fact that he lobbied for even greater unconstitutional handouts to bankers in 2009. "Actually I can understand their sentiment, frankly," he told reporters while announcing a large donation to the United Nations. "I can sympathize with their grievances." Occupy Wall Street and Soros' Fingerprints. Pages: 1 2 The fingerprints of the preeminent funder of the activist Left today, George Soros, are all over the anti-American "Occupy Wall Street" movement.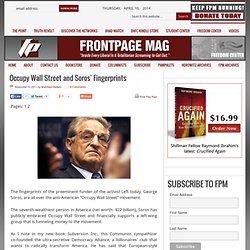 The seventh-wealthiest person in America (net worth: $22 billion), Soros has publicly embraced Occupy Wall Street and financially supports a left-wing group that is funneling money to the movement. As I note in my new book Subversion Inc., this Communist sympathizer co-founded the ultra-secretive Democracy Alliance, a billionaires' club that wants to radically transform America. Video Exposing How 'Occupy Wall Street' Was Organized From Day One by SEIU / ACORN Front – The Working Family Party, and How They All Tie to the Obama Administration, DNC, Democratic Socialists of America, Tides and George Soros.
Breakdown of the Connections Between The Working Family Party, SEIU, ACORN, The New Party, The DNC, Democratic Socialists of America, Tides, George Soros and The Obama Administration: The Working Families Party was established in the 90s by key members of the the socialist organizations The New Party, ACORN, SEIU, and a coalition of other labor unions and community organizations.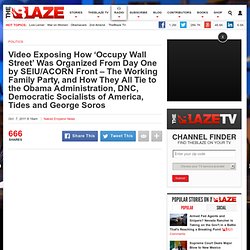 Patrick Gaspard, the current executive director of the DNC, former director of Obama's Office of Political Affairs, was an organizer for the New Party, the executive vice president of the SEIU Local 1199, political director for Bertha Lewis (the former president of ACORN) and a co-chair of the Working Families Party. US Day of Rage Non-Violent Civil Disobedience Wall Street. What, exactly, is a "US Day of Rage?"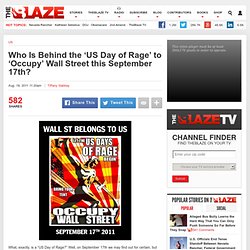 Well, on September 17th we may find out for certain, but until then, The Blaze is revealing what information does exist about this very nefarious-sounding campaign. A US Day of Rage is the title given to a day of ostensibly "non-violent" civil disobedience orchestrated by a group of radicals — that reportedly include SEIU's Stephen Lerner and ACORN founder Wade Rathke (who, coincidentally, formerly served as president of SEIU's local New Orleans branch) — targeting Wall Street and U.S. capitalism.
It's worth noting that the title of the movement — if its intentions are indeed non-violent in nature — appears to contradict itself slightly. Protesters begin 'Day of Rage' against capitalism. Text smaller Text bigger Social media networks fomenting a nationwide "Day of Rage" protest are reporting that hundreds have gathered in New York City's financial district to protest "Wall Street's corporate plunder."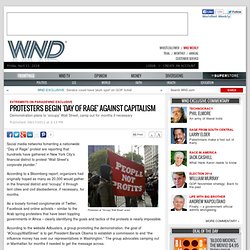 According to a Bloomberg report, organizers had originally hoped as many as 20,000 would gather in the financial district and "occupy" it through tent cities and civil disobedience, if necessary, for months. "Day of Rage" Obama re-election team in disguise? » Did Muslim Brotherhood Learn 'Day of Rage' Egypt Protest Tactics From Obama Allies Bill Ayers and Code Pink? - Big Government. Now Playing On Breitbart TV Featured Contributors The shootings at a Jewish community center in suburban Kansas City have now been officially deemed a hate crime, officials said on Monday. by Warner Todd Huston 14 Apr 2014 4 A shortage of whitefish in the Great Lakes region resulting partly from the winter deep freeze is coming at an inconvenient time for Jewish families: the Passover holiday, when demand is high because it's a key ingredient in a traditional recipe. from AP 14 Apr 2014 4 California State Senator Leland Yee, who has been charged with wire fraud and conspiring to import firearms, may be facing new charges from the federal government. by William Bigelow 14 Apr 2014 89.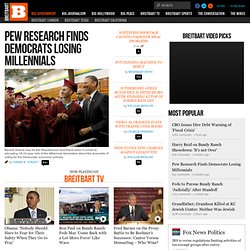 Occupy Movement. #OccupyWallStreet/ Occupy Wall Street. Occupy Wall Street.
---