Apple Security
A pearltree of pearls related to protecting Apple products, including Mac OS X computers and iOS devices.
Mac Antivirus. Submit Malware - Intego. Mac Malware. The Mac Security Blog. Adobe has issued security updates for Adobe Flash Player for Mac and Windows, updating...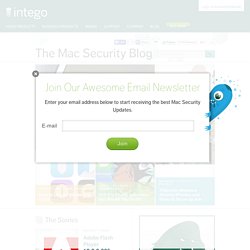 By Derek Erwin Intego is proud to be the longest running Mac antivirus firm dedicated to protecting... Yesterday, Apple quietly released Safari 6.1.3 and Safari 7.0.3 with security updates that address... Adobe Flash Player 12.0.0.77, released for Mac and Windows, is now available for download. Intego Mac Security (@IntegoSecurity) sur Twitter. Intego Mac Security. Mac Security Tips. Apple Security Questions & Answers.
---