Formatierung/Buchstaben
An expression evaluator written in VB.NET. There is a new version (still very simple), at the address below: Introduction.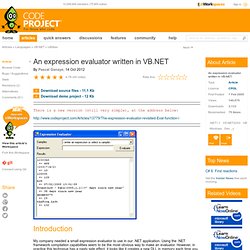 [VB 2008] Im KeyPress-Event der Textbox "Kopieren" und "Einfügen" zulassen - Hauptforum - Visual-Basic-Forum VB-Paradise.de. VB6- und VB.NET-Anwendungs-Konfiguration leicht gemacht. Veröffentlicht: 19.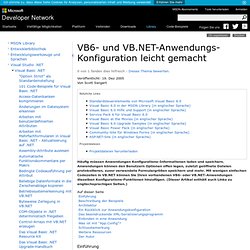 Dez 2005 Von Scott Swigart Häufig müssen Anwendungen Konfigurations-Informationen laden und speichern. Anwendungen können den Benutzern Optionen offen legen, zuletzt geöffnete Dateien protokollieren, zuvor verwendete Formulargrößen speichern und mehr. Mit wenigen einfachen Codezeilen in VB.NET können Sie Ihren vorhandenen VB6- oder VB.NET-Anwendungen dieselben Konfigurations-Funktionen hinzufügen.
Buchstaben mit Punkt darüber. Gimp Tutorial HD: 3D Buttons erstellen. GNU Image Manipulation Program. VB.NET-Tutorial: Chart Controls 3.5 und SQL-Datenbank. Hilfe:Sonderzeichenreferenz. Hilfe > Bearbeiten > Sonderzeichen > Sonderzeichenreferenz Auf dieser Hilfeseite wird eine Auswahl von Sonderzeichen gezeigt – vor allem solche mit "Namen", die in der Spalte HTML Entität angegeben sind.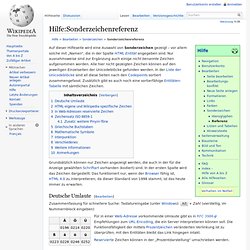 Nur ausnahmsweise sind zur Ergänzung auch einige nicht benannte Zeichen aufgenommen worden. Alle hier nicht gezeigten Zeichen können auf den jeweiligen Einzelseiten der Unicodeblöcke gefunden werden. In der Liste der Unicodeblöcke sind all diese Seiten nach den Codepoints sortiert zusammengefasst. Greek alphabet and roman numbers. 3D-Diagramm erstellen. Sie kennen sicherlich auch diese coolen Diagramme, in denen die Werte dreidimensional, über kleine Berge, die aus einer Ebene ragen, dargestellt werden.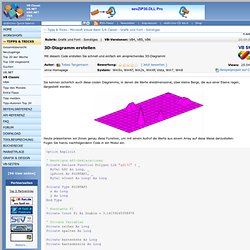 Heute präsentieren wir Ihnen genau diese Funktion, um mit einem Aufruf die Werte aus einem Array auf diese Weise darzustellen.Fügen Sie hierzu nachfolgendenn Code in ein Modul ein. Option Explicit ' Benötigte API-DeklarationenPrivate Declare Function Polygon Lib "gdi32" ( _ ByVal hDC As Long, _ lpPoint As POINTAPI, _ ByVal nCount As Long) As Long Private Type POINTAPI x As Long y As LongEnd Type ' Konstante PIPrivate Const Pi As Double = 3.14159265358979 ' Private VariablenPrivate reihen As LongPrivate spalten As Long Private kastenhöhe As LongPrivate kastenbreite As Long Private startpunktX As LongPrivate startpunktY As Long Private winkel As Double Private breitex As LongPrivate breitey As Long Private höhex As LongPrivate höhey As Long.
Samples Environment for Microsoft Chart Controls. You can now download Visual Studio 2010 projects that contain all the samples targeting .NET Framework 4.The samples environment for Microsoft Chart Controls for .NET Framework contains over 200 samples for both ASP.NET and Windows Forms.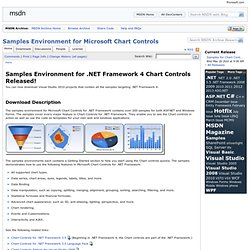 The samples cover every major feature in Chart Controls for .NET Framework. They enable you to see the Chart controls in action as well as use the code as templates for your own web and windows applications. The samples environments each contains a Getting Started section to help you start using the Chart controls quickly. The samples demonstrates how to use the following features in Microsoft Chart Controls for .NET Framework: ASCII Das griechische Alphabet - Webmaster Tutorials Generatoren.
---