Diagramme
How-To: Charts und Diagramme mit MSChart – die Grundlagen - Just about .Net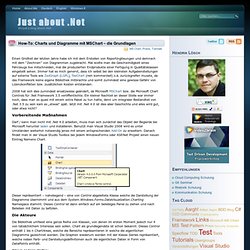 Einen Großteil der letzten Jahre habe ich mit dem Erstellen von Reportinglösungen und demnach mit dem "Zeichnen" von Diagrammen zugebracht. Mal wollte man die Geschwindigkeit eines Fahrzeugs live mitschneiden, mal die produzierten Endprodukte einer Fertigung in Qualitätsklassen eingeteilt sehen.
.NET: Charts und Diagramme mit MSChart erstellen « BigBasti's Blog
Vor Kurzem musste ich für einen Kunden eine Datenauswertung in einer .NET Applikation realisieren und wollte dazu ein schönes Diagramm erstellen. Leider musste ich (zu meinem Erstaunen) feststellen, dass das .NET Framework über kein eigenes Control für solche Zwecke verfügt, zumindest nicht im Framework 3.5! Nach ein wenig googlen bin ich dann auf die Charting Controls von Microsoft gestoßen, diese können hier heruntergeladen werden und für das Framework 3.5 nachinstalliert werden.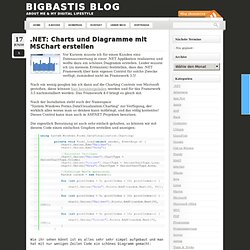 VB.NET-Tutorial: Chart Controls 3.5 und SQL-Datenbank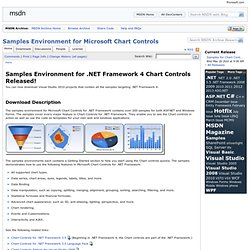 You can now download Visual Studio 2010 projects that contain all the samples targeting .NET Framework 4.The samples environment for Microsoft Chart Controls for .NET Framework contains over 200 samples for both ASP.NET and Windows Forms.