Réguliers
Racked NY : New York City Shopping, Stores, and Retail Scene
NEON - Soyons sérieux, restons allumés !
Youngplanneur
LLLLITL | Publicité, marketing, créativité
Depuis samedi et jusqu'au 7 décembre, Charal, accompagné par l'agence psLIVE, propose à tous les amateurs de viande de vivre une expérience culinaire sur le parvis de la Défense dans son Atelier éphémère.
Accueil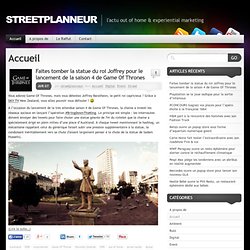 Friday Dagobert du 20 avril 2012
Veille du Brand Content
Juxtapoz Magazine
Cherryflava | Trends and Innovation
Marketing On The Beach | e-Marketing, e-Commerce, Réseaux Sociaux, Entreprise 2.0
Paperboyz.fr
TED: Ideas worth spreading
FFD
Blog en bois - Nouvelles tendances, marketing, publicité, web, mode, musique
Simply Zesty - Building your brand through social media
SHANE : Magazine sur le Webdesign, le Graphisme et Apple !
Marketing Virtuel
Notre Lien Quotidien
TENDANCES GRAPHIQUES
Ufunk.net - Gadgets japonais et Arts insolites
Etudes - Les scénarios du futur selon Peclers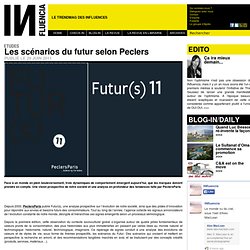 Publié le 29 juin 2011 Face à un monde en plein bouleversement, trois dynamiques de comportement émergent aujourd'hui, que les marques doivent prendre en compte. Une vision prospective de notre société et une analyse en profondeur des tendances faite par PeclersParis
Publiz – Inspiration graphique et publicité créative
The Yers - Le Magazine Homme à destination de la génération Y
On Air Le Blog - eMarketing et Communication sensorielle
Olybop info Actus #Design #Graphisme
pix-geeks /// Cyberculture // Design / Marketing
TrendsNow - Future Trends Magazine
So Particular
The Ad Contrarian
BookandBuzz - Communication et marketing littéraire
PPC
Laughing Squid