Réguliers
Racked NY : New York City Shopping, Stores, and Retail Scene. NEON - Soyons sérieux, restons allumés ! Youngplanneur. LLLLITL | Publicité, marketing, créativité. Accueil. A l'occasion de la sortie du jeu Infamous, Playstation a décidé de mettre au défi ses fans en leur faisant incarner, le temps de 5 secondes, le héros du jeu.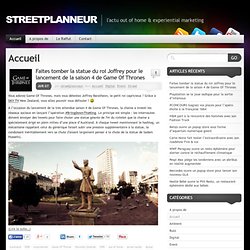 Petit détail : ce héros est doté de pouvoirs électriques … Pour faire vivre cette expérience, la marque de consoles a installé une boite avec une réplique de prise électrique géante en plein centre de la gare d'Antwerp en Belgique. Surmontée d'un « Enjoy your power », la boite invitait les passants à placer 2 doigts à l'intérieur de la prise. Sans surprise, les curieux se sont pris une décharge. Friday Dagobert du 20 avril 2012. Veille du Brand Content. Juxtapoz Magazine. Cherryflava | Trends and Innovation.
Marketing On The Beach | e-Marketing, e-Commerce, Réseaux Sociaux, Entreprise 2.0. Paperboyz.fr. TED: Ideas worth spreading. FFD. Blog en bois - Nouvelles tendances, marketing, publicité, web, mode, musique. Simply Zesty - Building your brand through social media. SHANE : Magazine sur le Webdesign, le Graphisme et Apple ! Marketing Virtuel. Notre Lien Quotidien. TENDANCES GRAPHIQUES. Ufunk.net - Gadgets japonais et Arts insolites. Etudes - Les scénarios du futur selon Peclers. Publié le 29 juin 2011 Face à un monde en plein bouleversement, trois dynamiques de comportement émergent aujourd'hui, que les marques doivent prendre en compte.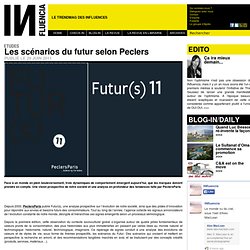 Une vision prospective de notre société et une analyse en profondeur des tendances faite par PeclersParis. Publiz – Inspiration graphique et publicité créative. The Yers - Le Magazine Homme à destination de la génération Y. On Air Le Blog - eMarketing et Communication sensorielle. Olybop info Actus #Design #Graphisme. Pix-geeks /// Cyberculture // Design / Marketing. TrendsNow - Future Trends Magazine. So Particular. The Ad Contrarian. BookandBuzz - Communication et marketing littéraire. PPC. Laughing Squid.
---