Culture pioub
Plandecomm. LOOKING FOR ADVICE. Les 25 plus mauvaises traductions publicitaires. Deuxième dossier consécutif consacré aux échecs publicitaires et marketing.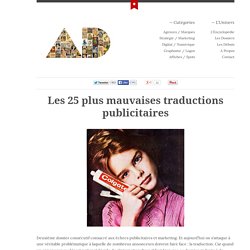 Et aujourd'hui on s'attaque à une véritable problématique à laquelle de nombreux annonceurs doivent faire face : la traduction. Car quand un annonceur au départ national décide de s'internationaliser, il faut bien que ce dernier s'adapte à de nouvelles cultures, de nouvelles traditions, de nouveaux standards mais aussi et surtout à une nouvelle langue. De là découle parfois des situations hallucinantes et qui ne concernent pas que des petits annonceurs.
Agences. MAD. CRM. C'est qui les Créas ? | You're creative at DDB Paris, what is your background?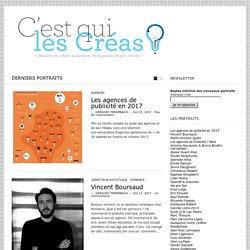 I grew up in Sofia, Bulgaria where I lived until I was 19. After studying in Scotland (Philosophy and English lit.) for one year, I got bored with analyzing what other people did and started looking for a more design-oriented school. I stumbled upon Miami Ad... Bonjour Bernard tu es un créatif freelance, quel a été ton parcours ?
Tout d'abord, je ne suis pas un créatif freelance: je suis un créatif qui fait des freelances en attendant qu'une agence intéressante se décide à lui faire une petite place.
---