Mental Health
Anything to Stop the Pain – For Non-Borderlines – Loved Ones of
Borderline personality disorder - Wikipedia, the free encycloped
Other symptoms may include intense fears of abandonment and intense anger and irritability, the reason for which others have difficulty understanding.[1][2] People with BPD often engage in idealization and devaluation of others, alternating between high positive regard and great disappointment.[3] Self-mutilation and suicidal behavior are common.[4]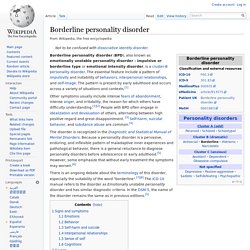 www.mentallyinteresting.org.uk | Pole to Polar: The Secret Life
The most commonly used method of suicide varies by country and is partly related to availability.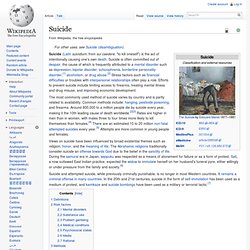 Suicide
Self-harm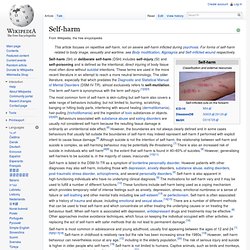 Self-harm (SH) or deliberate self-harm (DSH) includes self-injury (SI) and self-poisoning and is defined as the intentional, direct injuring of body tissue most often done without suicidal intentions. These terms are used in the more recent literature in an attempt to reach a more neutral terminology.