Android
4.0.2.a.0.62 arc s root
ARC/ARC S (ROOT.FTF&.IMG)4.1.B.0.431 ICS 4.0.4+Flashtool+Ringtones+Other OK! I´m here again with new links!Check my post for new updates!You can find all you need for your Xperia Arc/Arc S here by jlmcr87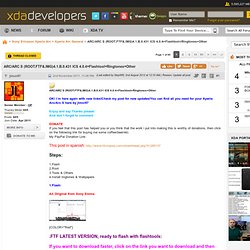 ARC/ARC S (ROOT.FTF&.IMG)4.0.2.A.0.62 Generic Global World+Flashtool+Ringtones+Other
Main: 2.3.4 build number 4.0.2.A.0.62
Main: Unable to root arc after 4.0.2.A.0.62 update... :(
this is how to add more Internal Memory it's a long process but its worth it 1) backup everything (Check above) 2) backup your SD card on your PC 1) open any folder -> click on tools -> properties -> view -> show hidden files 2) mount the SD card, go to your SD card, press Ctrl + A then Ctrl C, on your desktop create a new folder, open it, then press CTRL + V
Main: Arc/S LT15i/a -18i/a  2.3.4     4.0.2.A.0.62 (pre-rooted version too)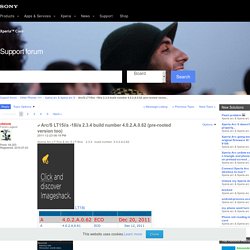 [How-To] Safely test custom kernels / custom ROMs and get back to stock SE 2.3 ROM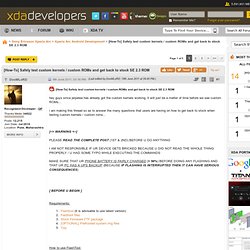 Recognized Developer - OP Thanks Meter 17353 Posts: 9,599
[BASEBAND PATCHES] for Baseband -36 and -64 Hello! Many users have reported excessive battery drain and/or/due to intermittent loss of signal using the latest basebands. I have been trying different basebands myself and found that baseband -36 gives the best combination in battery life and signal reception. However, there are libraries in /system/lib that are related to baseband and, in my trials, it seems that they made a difference in how the baseband was functioning in a different firmware than .368 (in which it initially shipped).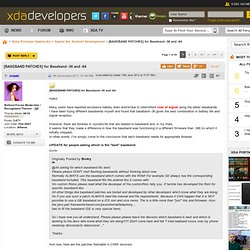 [BASEBAND PATCHES] for Baseband -36 and -64
BootManager Boot Manager for Xperia 2011 devices based on ClockworkMod recovery source. Credits and special thanks to Koush and everyone else involved in Cyanogenmod project! [ info ] The bootmanager will reside on the main kernel of the device and will provide u with access to multiple recoveries!
[KERNEL][ARC/ARC S] DooMKernel [Rel:v19-BootManager-v2][Dt:19/FEB][FW:.42/.58/.62]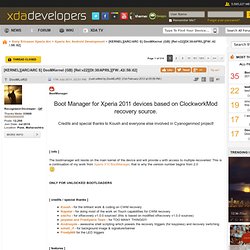 Root your Xperia without unlocking the bootloader [zergRush exploit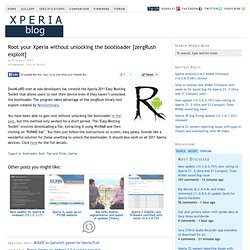 DooMLoRD over at xda-developers has created the Xperia 2011 Easy Rooting Toolkit that allows users to root their device even if they haven't unlocked the bootloader. The program takes advantage of the zergRush binary root exploit created by Revolutionary . You have been able to gain root without unlocking the bootloader in the past , but this method only worked for a short period.
[Daily Update]Root / Unroot Sony Ericsson Xperia 2011 v1.5 without unlock bootloader - Page 4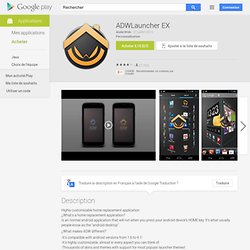 ADWLauncher EX - Apps on Android Market
Highly customizable home replacement application ¿What's a home replacement application? Is an normal android application that will run when you press your android device's HOME key. It's what usually people know as the "android desktop".
www.gotowallpapers.com/wallpapers/allimg/c111101/132010I3B5530-14021
www.gotowallpapers.com/wallpapers/allimg/c101215/12923a352A350-36356
cdn2.staztic.com/screenshots/miui-spiral-green-analog-clock-1-1
MIUI Spiral RED Analog Clock (Android) - Download
Recognized Developer - OP Thanks Meter 17093 Posts: 9,565 Join Date: Jul 2010 Location: Indian Institute of Management, Ahmedabad (IIMA) Quote:
[04/Jan][ROOTING/UNROOTING] Xperia 2011 Easy Rooting Toolkit [v4.0](zergRush Exploit) - Page 17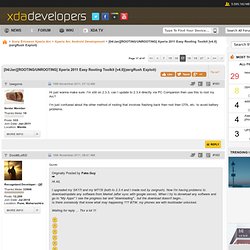 View Single Post - [QUESTION] How to root Xperia ARC S (LT18i)
[TOOL/X10] [UPDATE 26/02/2012] Flashtool version 0.6.8.0 - Windows / Linux
[TOOL/X10] [UPDATE 07/01/2013] Flashtool version 0.9.10.0 - Windows / Linux / Mac Hi, I will take the lead on releases of this tool as Bin4ry will have less time to work on it. For all flashtool informations (download links, release notes, FAQ) go to the Flashtool Homepage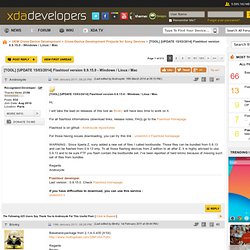 [HOW-TO] Root Phones w/ Android v2.2.x-2.3.x (zergRush Method) - Page 9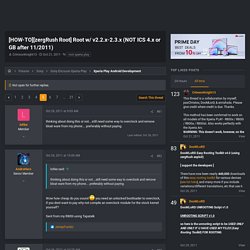 Recognized Developer Thanks Meter 17093 Posts: 9,565 Join Date: Jul 2010 Location: Indian Institute of Management, Ahmedabad (IIMA)
Before installing the Android SDK, you must agree to the following terms and conditions. This is the Android Software Development Kit License Agreement 1. Introduction 1.1 The Android Software Development Kit (referred to in this License Agreement as the "SDK" and specifically including the Android system files, packaged APIs, and Google APIs add-ons) is licensed to you subject to the terms of this License Agreement.
CyanogenMod is a free, community built, aftermarket firmware distribution of Android 2.3 (Gingerbread), which is designed to increase performance and reliability over stock Android for your device. Disclaimer /* * Your warranty is now void. * * I am not responsible for bricked devices, dead SD cards, * thermonuclear war, or you getting fired because the alarm app failed. Please * do some research if you have any concerns about features included in this ROM * before flashing it! YOU are choosing to make these modifications, and if * you point the finger at me for messing up your device, I will laugh at you. */
Tutorial How to Install Cyanogenmod on Xperia Arc / Arc S | Android Evil
List of Custom ROMs, Firmwares and Kernels for Xperia Arc / Arc S | Captain Debugger
Root Xperia Arc With Xperia Easy Rooting Toolkit [Guide] [ZergRush]
Sony Ericsson Xperia Arc is a high-tier Android phone that comes loaded with 1 GHz scorpion processor and 8 MP primary camera. The phone has managed to gain a massive fan base since its release. The developer community is also consistent in providing support for this phone and we have seen many hacks, tweaks and mods emerging in the past to enhance user experience. The recent production of these handsets, recently made available, have largely remained a difficult challenge for developers to gain valid permanent root access.
[Daily Update]Root / Unroot Sony Ericsson Xperia 2011 v1.5 without unlock bootloader
didnt work for me... xperia mini pro, 4.0.2.A.0.58 [+] Found a GingerBread ! 0x00015118 [*] Scooting ...
Root Fore Xperia ARC S found Sony Ericsson latest LT18i BL + Root tutorial reproduced! The recently released Sony Ericsson LT18i already reproduced ROOT tutorial for everyone now! Finally, with the following version of a key LT15i 2.3.2 ROOT A first BL!
Root Fore Xperia ARC S found
Arc S Root
www.digiparallelimports.co.nz/manuals/Mobile Phones Manuals/Android Manual Setup.pdf
[04/Jan][ROOTING/UNROOTING] Xperia 2011 Easy Rooting Toolkit [v4.0](zergRush Exploit)
root xperia arc s
[Guide] Root Sony Xperia X10/Arc/Arc S/Play/Ray/Neo/Mini/Mini Pro/Pro/Active
How To: Install ADB and Fastboot on your Windows computer for use with your Android phone
Unlocking the boot loader | Site-Install
Custom Search
Sense 4 lockscreen GO Locker - Apps on Android Market
Elegant Theme 4 GO Launcher EX - Apps on Android Market
Clear Theme 4 GO Launcher EX - Apps on Android Market
[APP][UPDATE:18/8] TencentDesktop - MIUI Style Launcher (腾讯桌面 腾讯) - Page 5
Sculpted – CM7 Theme v2.1.1 | Technology Reviews
Post your Phone Home Screen **BE APPROPRIATE** - Page 4299
Post your Android Desktop - Page 52
Casual on Android | MyColorscreen, Where Technology Meets Art
Mobile Device Desktops
[QUESTION] How to root Xperia ARC S (LT18i)
GO Theme|PinkJava 1.1 free download for 1.6 and up
[Q] Few questions about ARC S roms, rooting and in general
How to install ADB for xperia arc S