The Next Web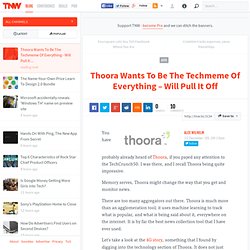 Thoora Wants To Be The Techmeme Of Everything – Will Pull It Off
You have probably already heard of Thoora , if you payed any attention to the TechCrunch50. I was there, and I recall Thoora being quite impressive. Memory serves, Thoora might change the way that you get and monitor news.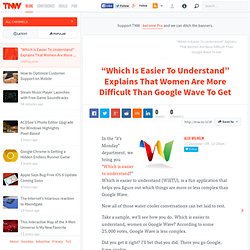 In the "it's Monday" department, we bring you " Which is easier to understand ?" Which is easier to understand (WIETU), is a fun application that helps you figure out which things are more or less complex than Google Wave. Now all of those water-cooler conversations can bet laid to rest. Take a sample, we'll see how you do.
"Which Is Easier To Understand" Explains That Women Are More Dif
Israeli airport security, clearly always on high alert, shot the hell out of a young woman's laptop at the airport. Incredibly the HDD survived. In her words: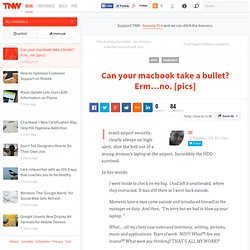 Can your macbook take a bullet? Erm…no. [pics]
FB.me: Facebook's new URL Shortener
Credeble tracks expenses, saves friendships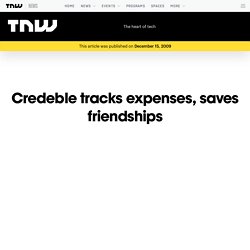 Planning a group event can be a nightmare. Once there are multiple things to pay for and a few people to split the cost between things can quickly get messy. Hoping to make things simpler and put an end to arguments over who paid for what is Credeble , a web app from a Netherlands-based team for tracking the expenses of a shared project. Let's say you're organising a party. Individual people may pay for different items (the drinks, the food, room hire, a DJ) but everyone wants to split the cost equally. With Credeble, any member of the project can add an expense and choose which member of the group owe money for the item.
Twitter Makes The Earth Move For You
Apple Enables Video on iPhone 2G and 3G
Apple has enabled owners of its older 2G and 3G handsets to record video by admitting the new iVideoCamera app to the iTunes store. [as well as the UStream Broadcaster app for 3G handsets - update at foot of post ] Users can now legitimately record, share and save videos without having to ' jailbreak ' their handsets. As reported on the Apple Blog , the app comes in at only 99 cents in the US store, and has similar entry-level pricing in other iTunes stores around the world. Adding this third party application to an iPhone 2G or 3G handset means that there is even less incentive to move up to the 3GS model and may prompt those coming up to the end of their contracts to wait and see what iPhone news Apple has to announce in the spring before committing to an upgrade path. Beware though, there are some significant limits to the app, and it is not helped by the camera installed in 2G and 3G iPhones.
Vevo , the much touted and poorly launched new music video portal that YouTube has a hand in, just might be amazing. Now a second or two after its launch, I realized that we all talked about it going live, and not much else. I fired it up, and am proud to say that it has sunk my last quarter hour in new music goodness.
Vevo Is Good – Will Be Amazing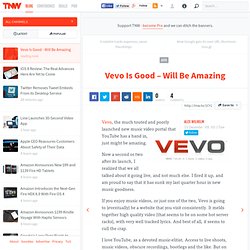 Microsoft Crowdsources Streaming Video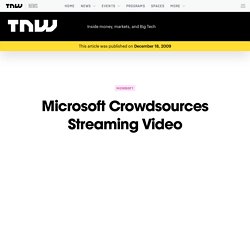 Microsoft has devised a way of stitching multiple live video streams from individual cell-phones at major events into a single widescreen broadcast. Services such as Qik and UStream are growing increasingly popular as people share live video from concerts and sporting events around the world, although actual results can vary. The Microsoft Labs team in Egypt has developed a way of integrating multiple live video-streams into a single broadcast, which can in turn be streamed live across the internet, for a richer, collaborative experience. The Mobicast system synchronises the software running on smart-phones with that on the receiving server to timestamp the footage and align the video-frames. Overlaps in the footage captured by separate phones are automatically identified using image recognition technology and blended to create a wider view of the scene.
Microsoft Covers Their Ass, Drops The Site, and Says Nothing [Up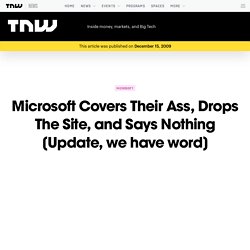 The SeattlePi got the following statement: Here's what we know at this point. Our MSN China joint venture contracted with an independent vendor to create a feature called MSN Juku that allowed MSN users to find friends via microblogging and online games. This MSN Juku feature was made available to MSN China users in November and is still in beta.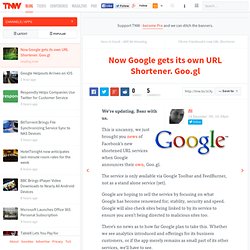 Now Google gets its own URL Shortener. Goo.gl
We're updating. Bear with us. This is uncanny, we just brought you news of Facebook's new shortened URL services when Google announces their own , Goo.gl.
Breaking: Twitter Highlights Coming Contributer API [UPDATE 1]
Twitter, Now in German.
Why Google doesn't want your money
Do you love Google? Would you pay to use their services? They wouldn't let you, even if you forced the money into Eric Schmidt's clammy hands. Yesterday here on The Next Web, Alex Wilhelm published a post in which he discussed how Google services had become such an important part of his life that he would happily pay to ensure that he didn't lose them. It's an important point.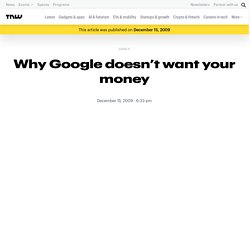 Little known fact. Mark Zuckerberg likes to hold his teddy bear
A large hat tip to Mashable and Starbucks for getting and publishing some amazing new pictures of the coming Twitter Contributer API. The Contributer API is the first of a coming string of updates to allow businesses to better manage their corporate accounts. This of course puts pressure on the current players in that market, such as CoTweet. Up until today, we only had one small image that was, well generic to say the least. Uncovered today are a slew of much better screenshots.
Screenshots Of The New Upcoming Twitter Feature
Individuals can no longer register domain names in China.
In a drastic move to tighten regulations of the Internet, individuals can no longer register domain names in China, and those who already have personal websites could lose them. According to a statement on The China Internet Network Information Centre , as of this week, the only people who can register new domains will be businessmen or organizations, and all those new registrants will need to have both written application materials as well as copies of their enterprise's business license or organization code certificate. The China Internet Network Information Centre, which supervises domain name registration, says that the measure stemmed from concern over widespread pornographic content on personal websites.
Relógio online mostra as horas com meninas nuas